Abandoned cart email templates serve the purpose of reminding customers to complete their checkout process. Baymard Institute studied the why and wherefores of cart abandonment and revealed that almost 70% of people abandon their cart before purchasing.
Think about it. If your monthly income is $10,000, you lose roughly $85,000 in annual sales revenue. The numbers speak volumes, and by all means, e-commerce businesses should address the issues that result in abandoned carts.
One of the most effective yet inexpensive methods to recover your lost sales is assigning an automation platform and sending targeted messages to abandoned shoppers.
So, let's cover the motives behind leaving the cart and how marketing automation with the abandoned cart email templates can make up for your lost revenue.
Why Do People Abandon Their Carts?
There can be countless motives behind abandoning shopping carts, but the common causes are:
Complex checkout process
Unexpected costs
Complicated return policies
Understanding the main culprits helps to come up with the top abandoned cart email templates to recover the lost revenue. Even if they don't return, having an in-depth look provides valuable data to reduce future abandonment rates.
So, let's go through each of the aforementioned causes in more detail, which can help you to better organize your abandoned cart email campaigns.
Complex Checkout Process
According to the same study, an average middle-sized e-commerce business can gain over 36% increase in conversion when improving the checkout design and flow. This is an estimated $126 billion return on lost orders. Here is how to optimize your checkout page: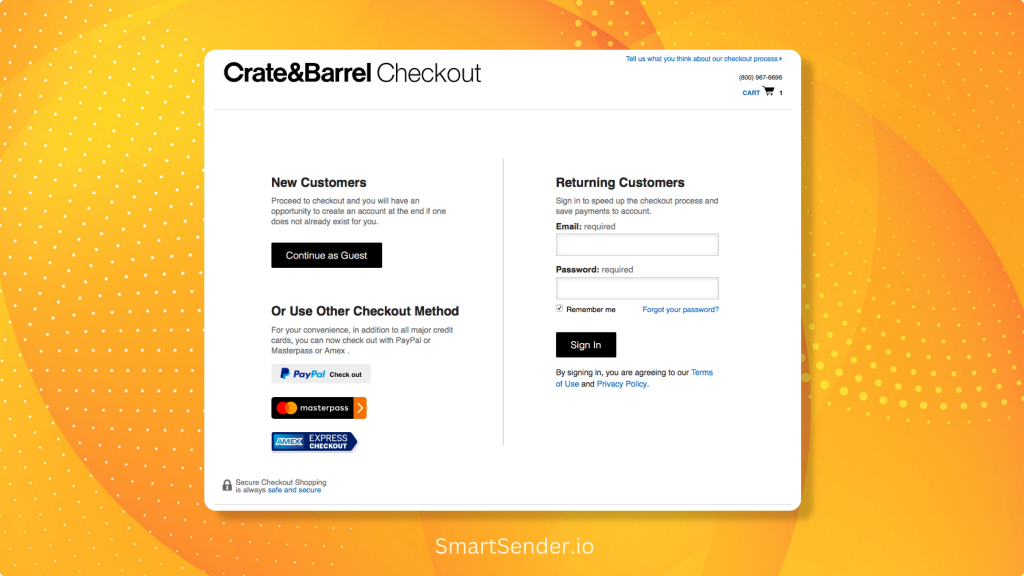 Improve the checkout flow: The flow should have as few steps as possible. Try to minimize the number of fields customers should fill out.
Allow a guest checkout: Many customers may abandon the website because of the requirement to create an account.
Create a mobile responsive design: Much online shopping is done on mobile, so you must ensure the checkout page is mobile-friendly. In fact, the research done by Loqate revealed that 35% of people leave the site due to the unresponsive design of the page.
Unexpected Costs
45% of responders to the same study said that unexpected costs triggered their cart abandonment. Extra costs, including shipping, taxes, and other fees, can be a real dealbreaker for them to abandon their carts.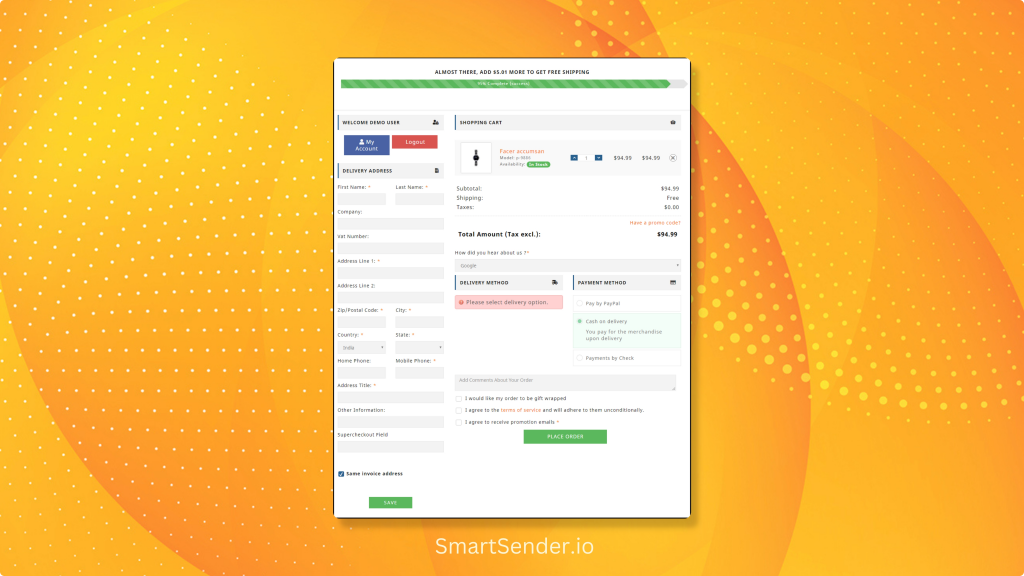 That's why we recommend being transparent with the extra costs by revealing the total cost of the product during the checkout process.
Return Policy is Unclear
If retailers don't include a return policy or it is unclear for online shoppers, they could leave the website straight away.
Recalling the study, 12% of responders said they abandoned the shopping cart because of an unsatisfactory return policy. This is especially true for people who order from global online retailers.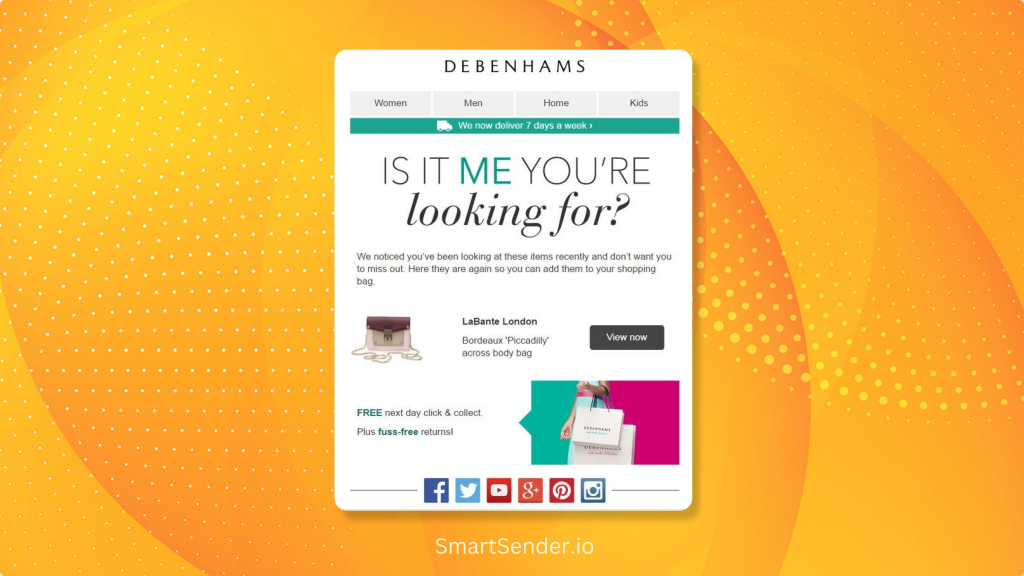 Imagine living overseas and deciding to order a pair of shoes from an international retailer, only to discover that their return policy is unclear. Of course, they would rethink whether the purchase is worth it. This is why brands should have a no-fuss return policy, especially for global buyers.
Best Abandoned Cart Emails | Best Practices
Now that we got the hang of what causes abandonment carts, it's time to offer ideas and tips to recover lost sales.
According to Forrester Research, e-commerce businesses lose $18 billion in yearly sales revenue because of lost orders. However, checkout optimization alone can help to bring 36% of lost customers back into their carts. So how can we do that?
Let's break down the best practices of abandoned cart emails into digestible chunks.
1. Free Shipping Offer
According to the Walker Sands Report, 79% of people would shop online if the business provided free shipping.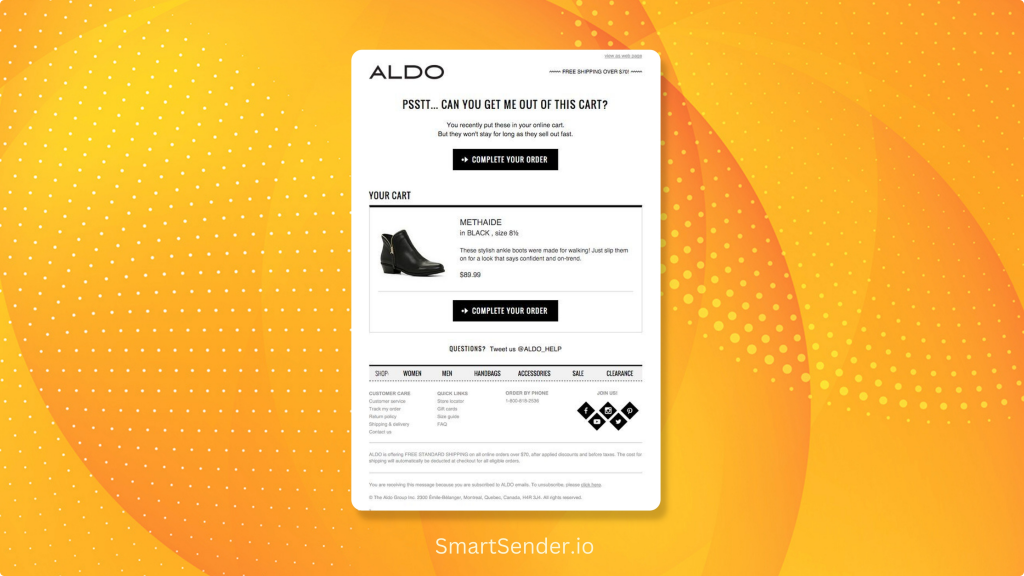 When offering free delivery services, the cart abandonment rate is greatly reduced. In addition, you encourage customers to spend more by setting a minimum order value to qualify for free shipping. This way, shoppers will keep adding more products to their carts which can result in a higher order value.
2. Timing is crucial
You must send the reminder email within a few hours after the customer leaves. The shopper may have all the intention to buy but somehow got distracted and forgot to complete the checkout process. That's why giving them a little nudge with the abandoned cart email reminder can get them over the line.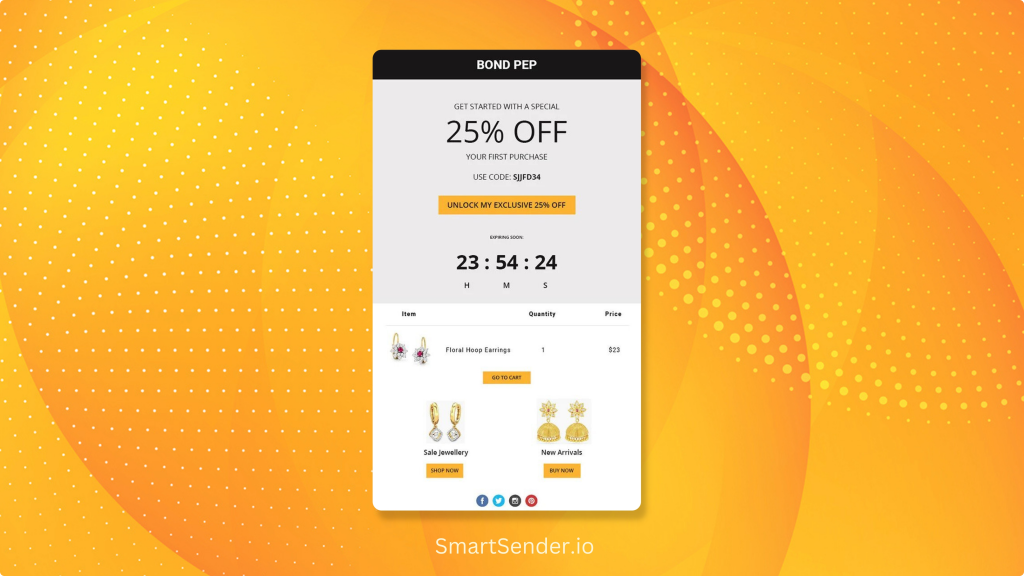 On top of that, creating a sense of urgency with a limited-time offer may push them to return to their shopping cart.
3. Send Email Sequence through an Email Campaign
When automating your email campaign with an all-in-one marketing automation platform, you target the messages based on the shopper's preferences and unique journey with your brand.
When customers leave their shopping cart without purchase, a single or multiple email sequence will be triggered. Let's unveil more about marketing automation and how it can help you target customers with abandoned cart email templates.
Automating Cart Abandonment Emails
Email automation with personalized and segmented messages can work wonders. In fact, the Salesforce study revealed that 17.6% of shoppers receiving personalized follow-up emails returned to their shopping carts.
To launch your killer abandoned cart email campaign, learn the best email ideas here.
Relevant product recommendation: When customers leave the shopping cart behind, it can mean that they're no longer interested in the product. However, when automating your campaigns, you can send relevant product recommendations. This encourages them to make a new purchase of a similar product they chose earlier.
Use FOMO (Fear of Missing Out): When adding a sense of urgency that purchase time is limited, you can convince them to take action right away. You may also offer personalized limited-time deals to double the chance of returning them. Always remember that timely reminders are vital, so send your offer within 2 hours of cart abandonment.
Split Test: Email automation allows you to a/b test different versions of abandoned cart emails. You can try different variations of subject lines, email copy, image, and design to understand which one performs better. This way, you improve the chances of recovering lost sales.
Create social proof. Your customers may abandon the cart when they start questioning your product's worth. That's why you should brag about its value with onsite or social media reviews.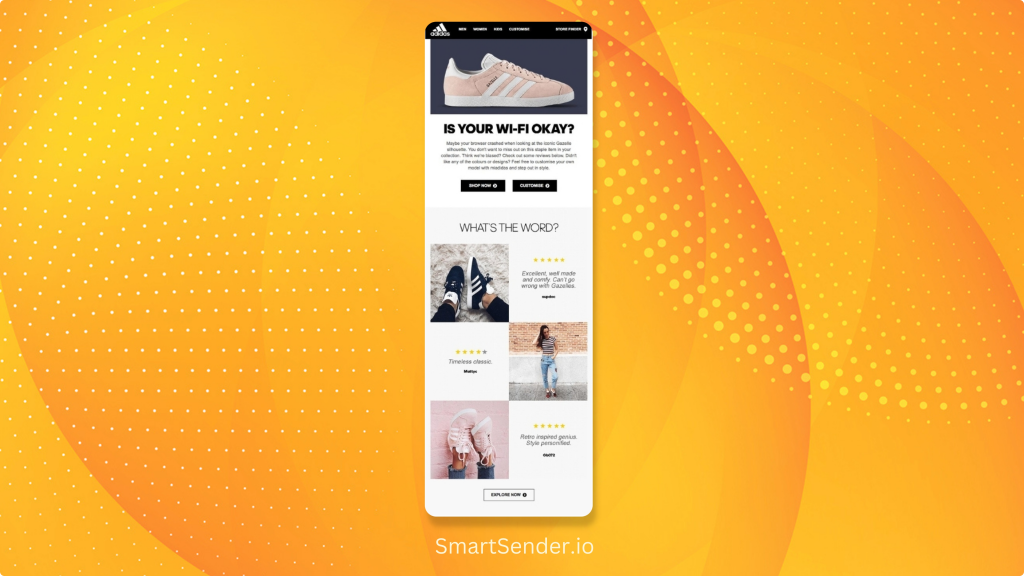 On top of emails, your abandoned cart workflow can include SMS, web push, and telegram messages. This can even triple the chance of ultimately getting noticed by your lost shoppers.
To wind up
There can be countless motives behind leaving the shopping cart, but by understanding the core reasons and utilizing best practices, you can bring your shoppers back to complete their purchase.
This can be easily done with email automation, which allows you to send segmented, personalized, timely messages to recover your lost sales.