Suppose you ordered a product online. Your credit card was charged, yet you got a vague "Thanks for your purchase" notice without order details. Doesn't it make you feel anxious? Or worse, not even a single "Thank you" note, nada. But once you receive a confirmation email, it gives you peace of mind right away.
Transactional emails grant people a sense of satisfaction, assuring that the action was completed successfully. Though, its significance can go beyond that. Unveil the importance of them for your business: what the types are and how to send confirmation emails with Smartsender.io
Why are Confirmation Emails Important?
You don't want a cloud of uncertainty hanging over your customer's heads, right? That's why confirmation emails are there to assure your customers that their action has been acknowledged. On top of that, a confirmation email is a must for your business because:
A customer expects to receive it. It goes straight to the inbox, and customers open it multiple times. That's why it has a high CTR and open rate.
It can be the first impression of your brand. With this email, you can gain your customer's trust and secure further retention. If you don't send any confirmation or reach out with a poorly designed email, your brand's image will suffer.
An opportunity for marketers to upsell and cross-sell. When the engagement of your new or existing customers is at its peak, why not use the opportunity in your favor? More on that will be discussed later.
Additionally, transactional emails enjoy a high reputation. In fact, the report revealed that 64% of clients consider confirmation emails as the most valuable messages in their inboxes. There are various transactional emails, such as confirmation after purchase, registration, booking, etc. Let's cover some of them below.
Order Confirmation
When customers purchase a product online, they expect to receive an order confirmation from the company. The message should describe all the order details and further actions to take. A purchase verification email may also include all the shipping details, or it can be sent with a separate email.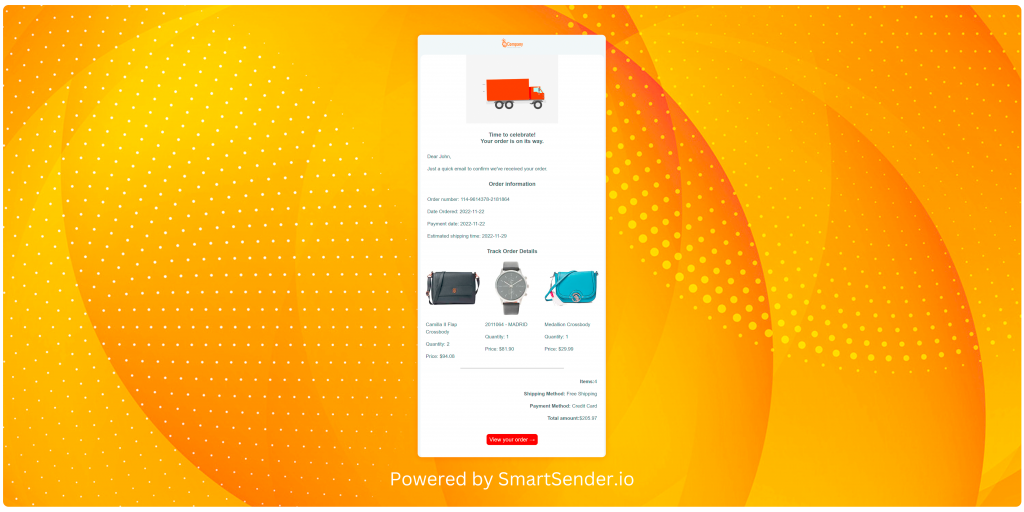 To save time and energy, automate all these processes with Smartsender.io marketing automation software. The customer's activity will serve as a behavioral trigger when automating a series of emails which can be a great help for marketers to cross-sell or upsell useful add-ons.
Say a customer buys a student desk. In your confirmation, the system will automatically recommend chairs or other add-ons from your available list of products. But then again, the main focus should be the product's order details, so don't turn it into a marketing email.
Booking confirmation
This is another type of transactional email to verify online booking in the hotel, event, etc. Flight confirmation is also involved in the booking emails, where details such as the price, the arrival date, the place, etc., are included.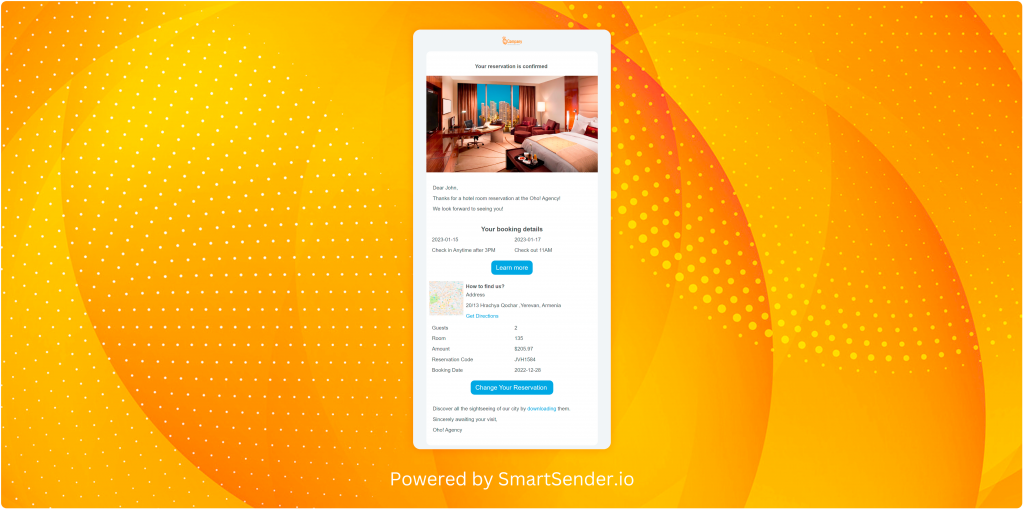 Here, too, marketers take the opportunity to cross-sell or upsell by offering similar, applicable events or actions. For instance, Cebu Pacific Air provides transfer, baggage handling, along with flight details.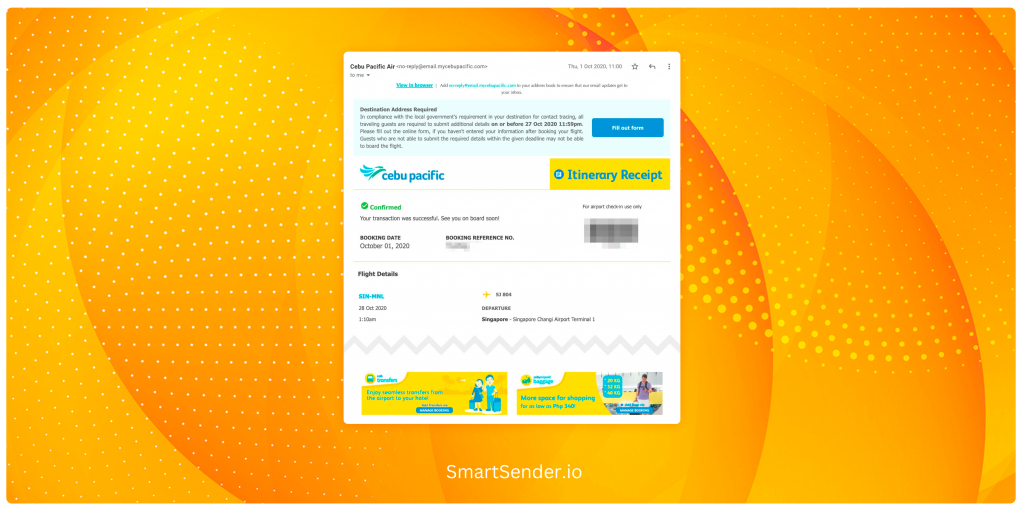 As food for thought, make sure to personalize your booking message. When you segment your audience with automation software, it increases revenue. Marketers already did the research and reported that personalized and segmented campaigns show a 760% increase in email revenue.
Confirming the Registration
It is the most common one, triggered when a new user registers for your website. This is your time to shine since it's your first online communication with your new customer. Additionally, a double-opt-in confirmation step may be included. This is to confirm the signup by clicking on the link and to ensure the provided email address goes valid and monitored inbox.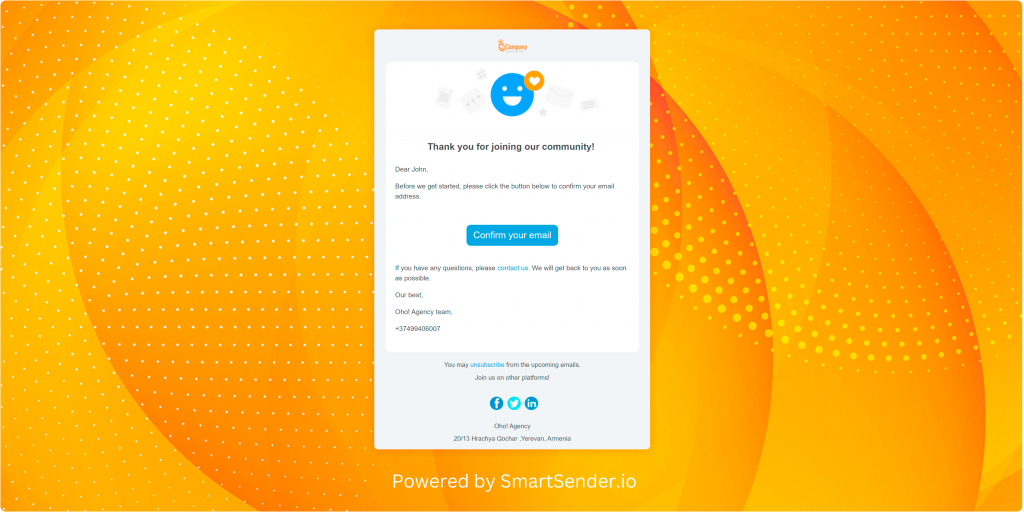 After confirming the signup, don't forget to send a short, heartfelt welcome message with a clear CTA to take action right away.
Your welcome message may include additional details such as the point of contact, valuable tips, educational materials, or other useful information. It is a well-known fact that Onboarding your new clients properly will guarantee a higher customer retention rate.
In a nutshell, email confirmations are not only to acknowledge the action but can sometimes be used for marketing purposes. Although, make sure to keep an acknowledgment of the action as the main focus so that it won't turn into a marketing email.