In today's highly competitive market, customer retention is vital for gym/fitness businesses to thrive and grow. However, given that clients have ever-changing needs and preferences, it can be challenging to keep them engaged and satisfied all the time.
That's where a reactivation campaign comes in to win back inactive customers who were once active members but dropped off your radar.
A well-thought-out campaign helps gym owners and fitness coaches reignite inactive customers' interest and bring them into the fold. Find out how email marketing can help you with that and unveil the secret behind the best fitness email ideas.
Why Reactivation Campaign is Necessary
It is a well-known fact that retaining current customers is easier and more cost-effective than acquiring new ones. Yet, most businesses keep chasing new clients while ignoring current or those who were once active customers. They overlook the fact that those are or were engaged customers but somehow lost track of visiting your gym or fitness.
A well-crafted campaign with the best fitness email ideas is worth both the effort and money to reignite the spark and bring your lost customers back. Here is why:
Effective: Client Branch Study revealed that a powerful email strategy brings back 26% of lost customers with 2x and more CLV.
Affordable: Customer acquisition can be expensive while bringing back churned customers who were already interested in your services greatly cuts down costs.
Positive brand image: Customers may stop using your services due to negative experiences with your services. Reaching out and addressing issues they had earlier can help to rebuild trust and maintain a positive brand image.
Valuable Insights: The reactivation program can help you get the motives behind leaving your services and later address those issues. You can send an email asking for feedback and gather the data. This helps to identify the main reasons for leaving your gym or fitness center.
How to Re-engage Inactive Customers with Reactivation Campaign?
Now that we have a better understanding of the reactivation program, let's discover how to launch a successful email campaign.
Email marketing is a powerful tool to use for your reactivation campaign and send value-driven email sequences. In fact, a study by the Data and Marketing Association says that 73% of consumers prefer email over any other marketing channel. That is why including an email strategy in your gym or fitness reactivation plan is a no-brainer. So, let's unlock the key to a successful campaign by breaking down the process into digestible chunks.
1. Understand the main culprits behind leaving your services
If your active members somehow ghosted you, you need to understand the motives behind it.
This could be due to a lack of motivation or time, negative experiences with your services, etc.. When identifying the reasons, you can craft a more targeted reactivation campaign.
Say your customer stopped visiting your gym due to a lack of motivation. Send a newsletter to stress the importance of keeping healthy habits. Encourage them to stick to their resolution by creating a calendar to bring them back on track.
2. Offer incentives
Who doesn't love surprise emails with exclusive offers? Lure your inactive members with discounts on their membership, freebies, or other delightful surprises. For instance, you can offer a free personal training session to make them feel exclusive with personalized attention and support.
Make sure to include short, concise content and a clear call to action so that customers know exactly what to follow to grab that special offer.
3. Encourage Referrals
It might seem pointless to offer a referral for inactive customers, but the truth is with the right message, it is very doable. For every referral of your services to their friends or family, offer them a discount.
Not only you win them back, but also acquire new customers for your business. Talk about killing two birds with one stone.
4. Pick an automation software
And above all, to kick off your reactivation email campaign, it is essential to target your audience via multiple channels.
Send an email confirmation after payment
This workflow is a must-have automation for gym/fitness conpanies to send confirmation to their customers after the payment is done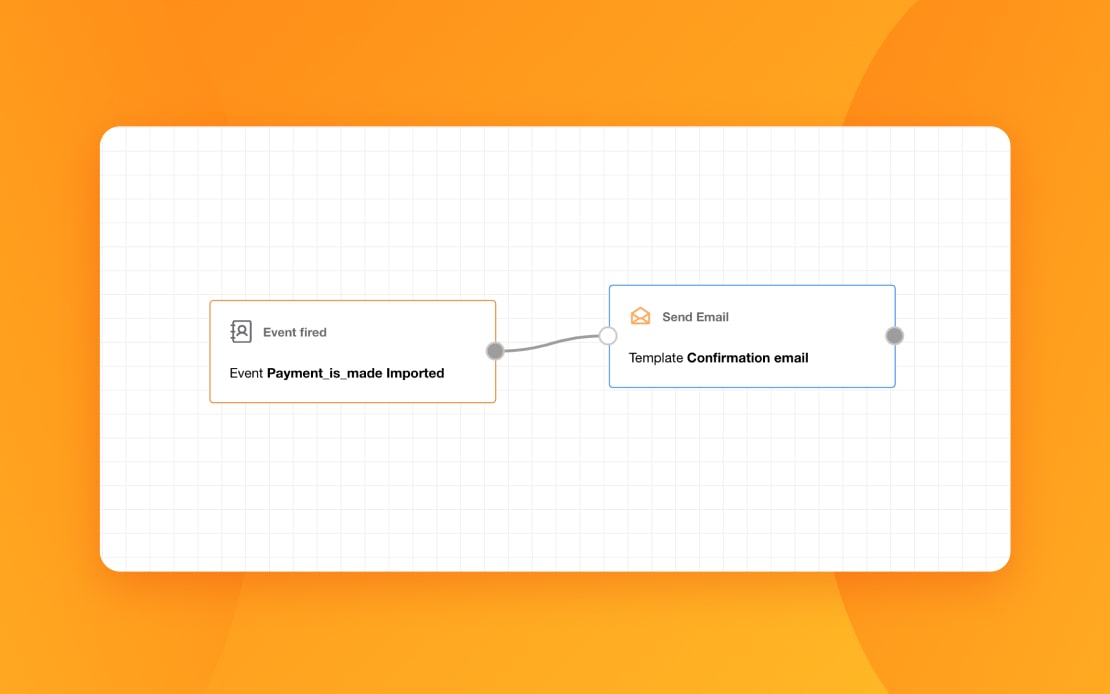 For that, you must first select omnichannel automation software. Fortunately, Smartsender.io's all-in-one marketing solution offers this on top of other advanced functionalities. Here is how it can help your fitness/ gym reactivation program:
Segmentation: Segmenting your inactive customers into different groups based on their experience or preferences with your service can help you come up with more relevant messages.
Customization: Among countless benefits of marketing automation tools, personalization certainly falls into the top ten. By including dynamic subject lines, greetings, or content that speaks directly to customers' needs and interests, the chances of winning them back can be greatly increased.
Email campaign automation: Set up automated email campaigns that are triggered by specific behavior from your customer, such as certain periods of inactivity. For instance, you may set up your reactivation program to start after 30 days of inactivity.
Data Analysis: Track the success of your campaign with detailed analytics, including metrics such as open rate, CTR, conversions, and so much more.
Omnichannel approach: By using other channels such as SMS, web push, telegram, along email, you don't give much of a chance to remain unseen.
To wrap up
The reactivation campaign can help to bring back inactive customers and drive more sales. By following these tips and gym or fitness email ideas, you can create a powerful automated email campaign to re-engage customers, retain them, and grow your business.