Who doesn't like the overall Holiday season vibe? (Well, unless you are a Grinch at heart). Holiday spirit, festive mood, and the joy of unwrapping presents. It is indeed the most wonderful time of the year for all types of businesses and an ideal time to invest in an emotional connection with your customers.
The catch is, however, to craft a well-thought-out holiday email campaign so that your emails won't get drowned in the sea of messages. For a rock-solid email campaign, break down your actions into three periods:
Pre-Holidays
Holiday period
Post-Holidays
Each of these requires your keen attention and great effort to turn out successful. So, grab your hot chocolate, wrap up in your cozy blankets, and relax because Smartsender elves are here to help you craft a powerful holiday email campaign. Let's dive in!
Pre-holiday
A festive season comes with booming sales, generating higher revenues, and a great deal of pressure to stand out. Some businesses make the majority of their sales during the holiday season with special offers, discounts, and promo campaigns. Take the example of Adobe, which predicts to hit 209,7 billion Holiday Season sales by the end of the year.
It is incredibly overwhelming for marketers to survive in the jungle, let alone reap the seeds of their marketing efforts. That's why we recommend preplanning your holiday email campaign earlier. Here's how:
Analyze your last year's marketing efforts: Ask yourself which of your marketing activities has failed and which ones succeeded. The answers will help you identify gaps and come up with better solutions to generate more revenue.
Adopt an omnichannel approach to your business objective. It means a brand presence and seamless experience for customers across offline and digital channels (email, social media, website, etc.). Shopify's 2021's report revealed that since the pandemic, 84% of customers shopped online, while only 65% shopped in-store.
Ensure your emails are mobile-friendly. Using mobile devices to check emails has significantly increased within the last few years. In fact, Statista's 2022 report revealed that 85% of customers use mobile devices to open their emails.
Remember that a well-thought-out email campaign requires your full attention and even a year-long prep. The more you invest in your pre-festive campaign, the more fruitful it will be. So, next, let's unveil what emails you can send during this period.
Pre-Christmas Email Ideas
Sending email newsletters before Christmas can be tricky, but you can achieve your goals with the right strategy. It's a subtle way of inserting the name of your company/products at the top of your customers' minds before booming sales start.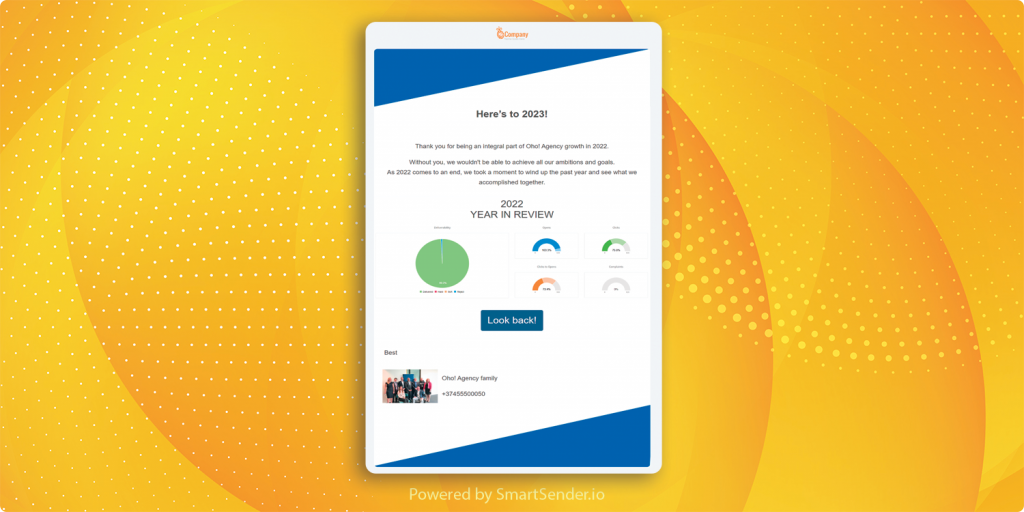 A "Year in Review" email is an excellent way to connect with your existing customers. You can speak of your annual achievements, product launches, new features, etc.
Consider your customer's geography and timing. Imagine if you don't segment your emails, and your Chinese audience receives Merry Christmas wishes in mid-October. In this case, an automation platform will greatly help segment your audience based on many factors. Automating your workflows with Smartsender.io, the platform will take the burden off all your business routines while you can enjoy your Holidays with the family.
Holiday Period
One by one, we are approaching the joyous holiday celebration. The goal is to generate more leads while also putting smiles on your customer's faces. Here are some tips to have in mind:
Send a light-hearted email with a personal touch: Personalized festive newsletters allow your customers to see the "human side" of your brand, which fosters trust and makes them feel part of the family.
Add urgency to your deals: It's a well-known fact that FOMO (fear of missing out) emails are more effective than discounts and promos. That's because, under a pile of holiday deals, users who opened them will forget these messages once they close their browsers. However, a time limit will encourage users to take action right away.
A/b test your messages: Sending out separate emails can help you understand which one performed better and take action accordingly. Try out different subject lines and Call to Action (CTAs) to come up with your winning email.
The subject line is the key player here. Since it's the first thing your customer sees, give extra thought to crafting an eye-catchy, joyous subject line.
With these elf-made tips in mind, create your heartfelt season's greeting that will convey emotions into retention. So, let's unwrap the gifts under the tree to see the Santa-approved holiday email ideas.
Christmas/NYE email newsletters
Roll up your sleeves to kick off your awesome email campaign because the Christmas magic is just around the corner. Here is some food for thought when sending your festive emails: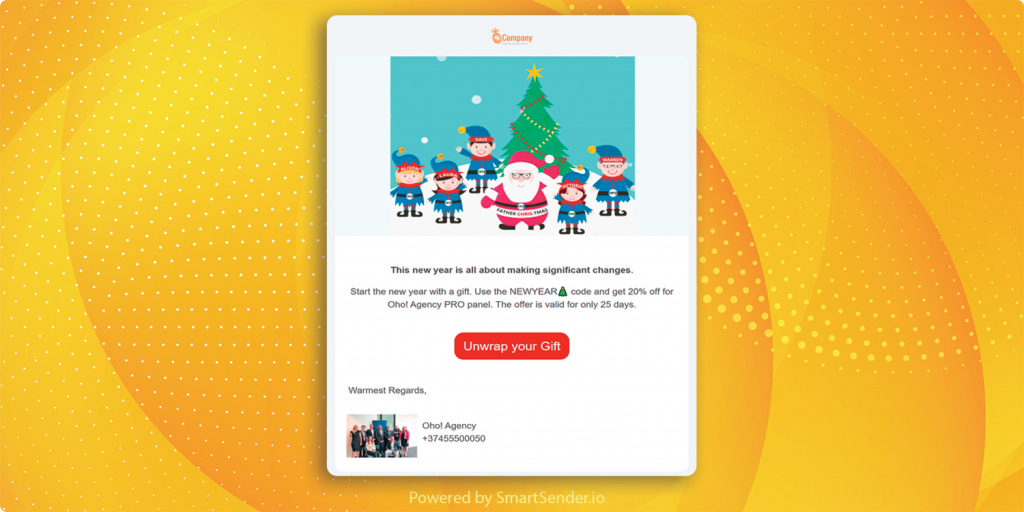 Offer your loyal customers gifts/discounts to make them feel special: This is the time of the year to thank your loyal customers who have rooted in your brand for a long time.
Use all your imagination: Even if you offer discounts or freebies, the competition is tough out there, and there is a big chance it will get lost under the pile of festive newsletters. Put all your creative efforts into this campaign to close up your sales before New Year's Eve. It's an excellent time to retain, reengage and gain new customers.
Send a sincere, heartfelt message. You don't have to offer big promos or discounts to get noticed. A light-hearted personalized email will be appreciated, which can also be a great investment into customer retention.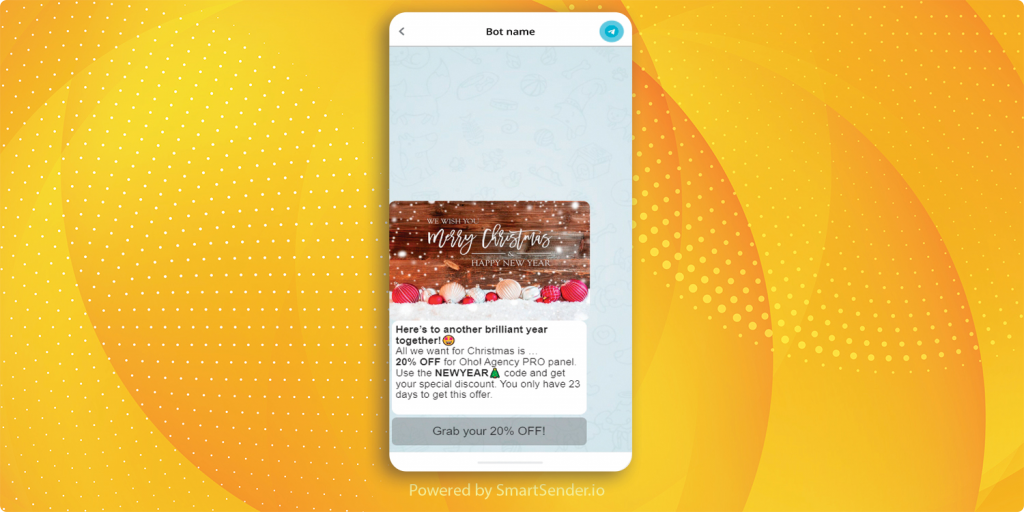 Segment your clients: When you use an automation platform to segment your clients, you can send targeted messages based on their interests, purchase history, etc. As opposed to generic emails, you can see how it will greatly improve conversion rates. In addition to it, the automation platform will get the tasks done during the holiday season's rush. Your clients will receive personalized newsletters via different channels (e.g., email, web push, telegram) while you can enjoy your festivities.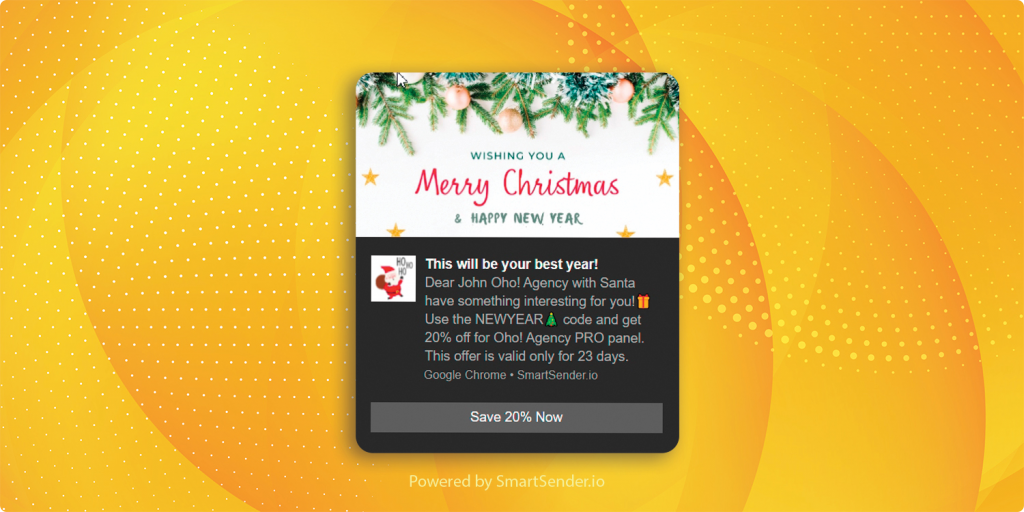 Post-Holidays
Clocks strike twelve, and the new year begins with new opportunities. Don't just disappear until the next holiday season. Keep nurturing your current and new clients with helpful content. You may share tips, ideas, and educational videos and keep them posted about the developments of your company.
Post-New Year emails are a great help to encourage clients to take a new leap and start their life on a fresh page. Inboxes are pretty much empty, and people are more relaxed and motivated to reboot their lives. It gives an opportunity to start communication with your customers by offering them something useful.
It is also an excellent time to reengage your inactive users and try to bring them on track. Coming up, we talk about post-holiday newsletter examples, so stay with us.
After NYE Newsletters
Don't lose your festive spirit after New Year's Eve. It's high time to share an inspiring New Year's Resolution with your audience. Your copy should send positive vibes and encourage your users to be consistent with their plans. These are some post-NYE tips, ideas, and examples: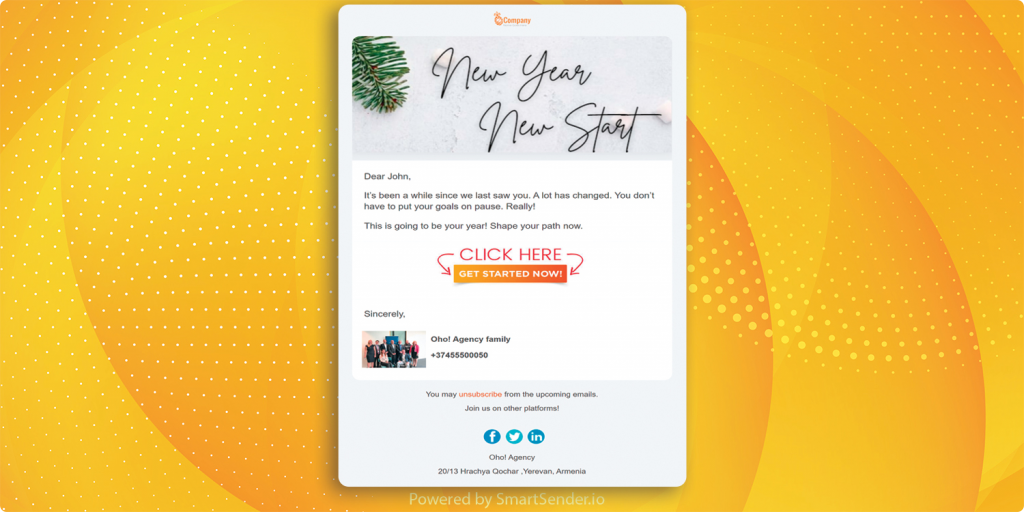 Download a series of automated emails from the Marketplace with ready-to-use templates, segments, and variables to free up a lot of time.
Offer educational materials that can help your client to stick to the New Year's Resolutions.
Reengage with your inactive users. If your inactive users are segmented, you will be able to identify the potential reasons for their inactivity and offer relevant materials to get them back on track.
To wind up, it is crystal clear how important holiday email campaigns are for your business. To succeed, simply divide your holiday email campaign into three stages and concentrate on the unique aspects of each step.
Smartsender team wishes you Merry Christmas and a Happy and fruitful New Year!