Email marketing is a powerful bridge connecting businesses with their audience. But, amidst the sea of messages-a formidable gatekeeper stands guard – the dreaded spam filters.
Imagine spending hundreds of hours crafting a perfect message with visuals and content, only to discover that it was flagged as spam by spam filters. Harsh, isn't it?
This is because the largest mailbox providers, such as Gmail and Yahoo, have become even more sophisticated in filtering messages that could potentially flag well-intentioned emails as spam. As email filters grow smarter, a seemingly innocent choice of words can trigger their wrath, leaving your messages lost in oblivion.
In the article, you will learn the linguistic labyrinth of words that trigger spam folders, as well as the secret art of crafting emails that outwit the spam filters and secure their place in the inbox. Let's dive into it!
Is Spam Email Bad?
There are plenty of things to concern about if your emails wind up in the spam folder. And the effects listed below are just the tip of the iceberg:
Your sender's reputation will be affected
More emails will be flagged as spam
Worst case scenario: violations cost your company harsh fines and penalties
And this works like a chained reaction that starts as soon as your emails hit the spam folder. The sender's reputation will suffer due to low engagement and open rates, which causes more emails to be flagged as spam and, at some point, violation of the law to result in fines.
To prevent emails from ending up in the spam folder, it's important to identify the reasons behind it and take necessary measures. Coming up, we'll talk about why spam filters red-flag emails and how to avoid them.
How to Avoid Spam Filters?
According to the 2023 Email Deliverability Benchmark Report, 1 in 10 emails are rejected by mailbox providers. This is because as technology advances, spam filters are getting smarter, and the trick to outsmart them, even harder.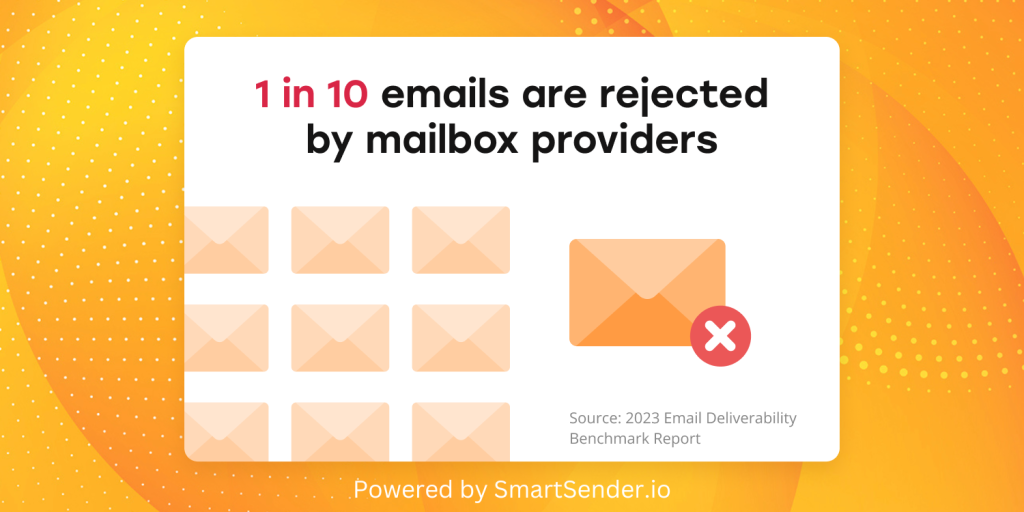 However, when businesses follow certain regulations and principles, winning the recipient's inbox won't be a big deal. To avoid spam filters, pay close attention to these standards:
Stay away from specific spam trigger words
Know and follow the laws and standards governing commercial and transactional emails
Ensure traceability and transparency
Use anti-spam best practices
Following these guidelines can guarantee your first-class ticket to the recipient's inbox, but you need to know all ins and outs of these standards. Worry not! The upcoming paragraphs are fully dedicated to walking you through these principles, so stay with us.
1. List of Spam Trigger Words
The first and foremost rule to follow is to stay away from certain trigger words in your email that may poke the bear (aka spam filters).
A seemingly harmless language could lead mailbox providers to mark it as spam if you don't know those trigger words. Find out the classified list of spam trigger words and try to skip them in the subject line and email copy.
Exaggerated Claims
Amazing deal/offer
Outstanding
Guaranteed
Best price
100%
#1
Winner
Winning
For free
Gift certificate
Very cheap
No costs
Free gift/offer/membership/website/preview/installation
Pressure and Urgency
Buy/act/order now
Limited time
Hurry up
Click here/now/below
Final call
Sign up free today
Only now/today/this week/ this month
Last chance
Call now/ today
Urgent
Financial
Big bucks
Extra/fast/no cash
Credit/Debt card
Risk-free
$$$
No investment/hidden cost/ hidden charges
Save big money/$
Double your income
Best price/rates/
Your income
Social Security Number
Earn extra money/cash/$
Marketing
Marketing
Email/direct/online/multi-level marketing
Bulk/direct/mass/ email
Increase sales/traffic
Notspam
This isn't junk/spam
Auto email removal
Sale/s
Search engines
Ad
General
Congratulations
Dear friend
Hello
Remove
Success
Password
Lifetime
Freedom
Chance
Teen
Wife
Stop aging
Meet singles
Weight lose
Stop snoring
Babes
xxx
Cure baldness
Online Degree
Opportunity
Miracle
Work from home
Stop
See for yourself
Legal
Valium
Viagra
Vicodin
Xanax
Removes wrinkles
Of course, this is not the full list of spam trigger words that would save your email in the spam folder. However, try your best to avoid them in the subject line.
Keep in mind that you can still use some of those trigger words and secure your place in the inbox as long as it is within the context. In this case, mailbox providers take into account other standards mentioned in the previous paragraphs. Read on to get to know those principles too.
2. Laws and Regulations
On top of spam-triggering words, spam filters also check whether your emails follow rules and regulations governing promotional or transactional messages.
Depending on where you live, anti-spam legislation governing email could vary. However, any commercial email should be in compliance with CAN-SPAM Act standards. As per FTC's Compliance Guide, failure to comply with the law can cost you up to $50,120 in penalties per email.
That's a no-brainer to ignore common principles and face severe penalties or, worse, get terminated from the FTC. To avoid this, some degree of traceability, as well as transparency, should be evident in your emails.
This brings us to the next standard, which is the importance of traceability and transparency in your messages. So, let's explore further details about it.
3. Transparency and Traceability
As a legal business owner, your emails should maintain a professional appearance to ensure credibility and trust. That's why transparency and some degree of traceability to your business must be evident. Here are things to take into account:
Double opt-in feature:
Buying email lists and sending bulk messages to people who are not subscribed is a violation of the General Data Protection Regulation (GDPR). To gain new subscribers naturally and secure your place in the inbox, provide your recipients with the choice to willingly grant their consent to receive emails.
For instance, when a prospect visits your website, offer them lead magnets in exchange for their email address. After that, send a confirmation email so that they confirm their address with the double-opt-in feature and get their lead magnets.
The whole process can be automated with Smartsender.io, which has high-security standards and authentication protocols such as DKIM, DMARC, and SPF. The protocols help your emails bypass email filters and make a secure landing in your customer's inbox.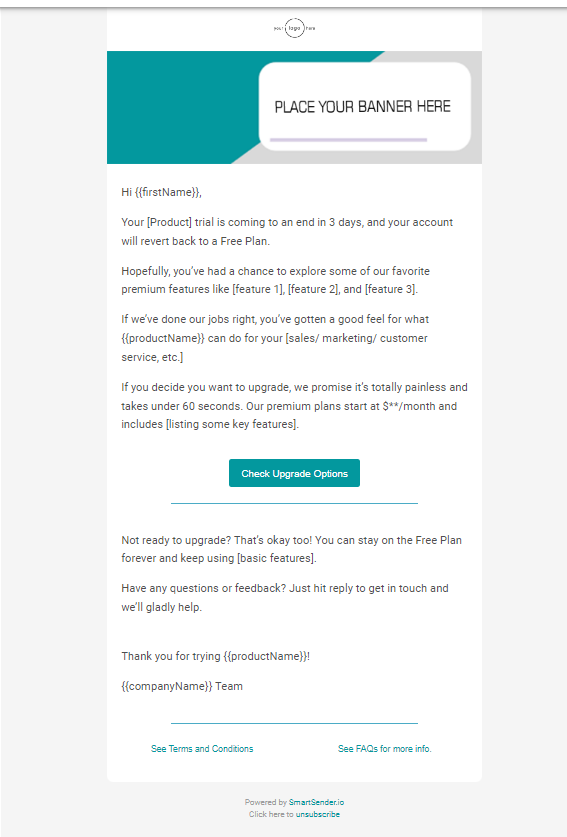 Legitimate business address:
It's a legal requirement to include the physical address of your company, whether it's a commercial or transactional email. If your business operates from home, get a PO box registered with the Postal Service so that you don't report your home address publicly.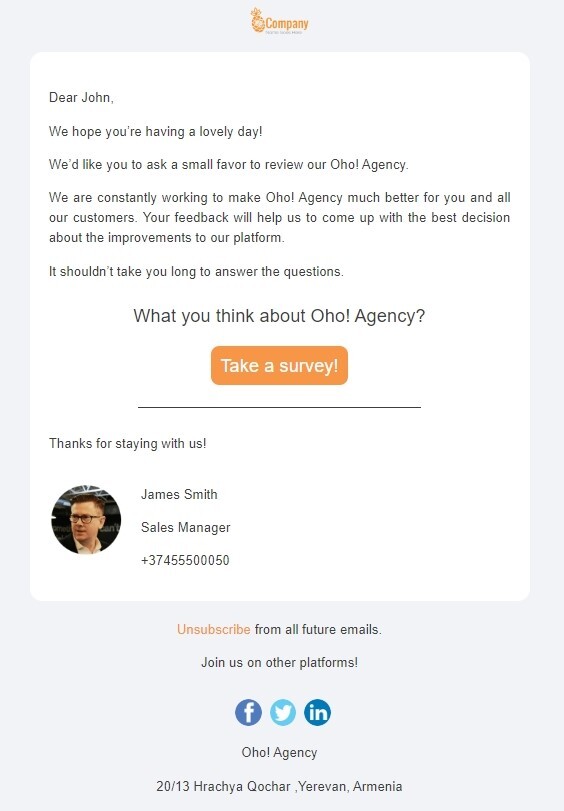 On top of the physical address, you must also include your company's logo and unsubscribe link in your messages. Smartsender allows you to build your email templates with 4 different template builder options (Drag & Drop, HTML, Rich Text, and Stripo integration).
Additionally, you can personalize "from the name" and add a signature to give your emails a more professional image. Personalization, in general, has shown over time to work wonders. Not only does it instill a sense of security, but also secures your place in the inbox.
Unsubscribe link:
Under GDPR, every email you send, whether transactional or promotional, should have an unsubscribe link. Although it's not the best scenario to get a lot of unsubscribers, it's still crucial to keep your email list hygiene clear.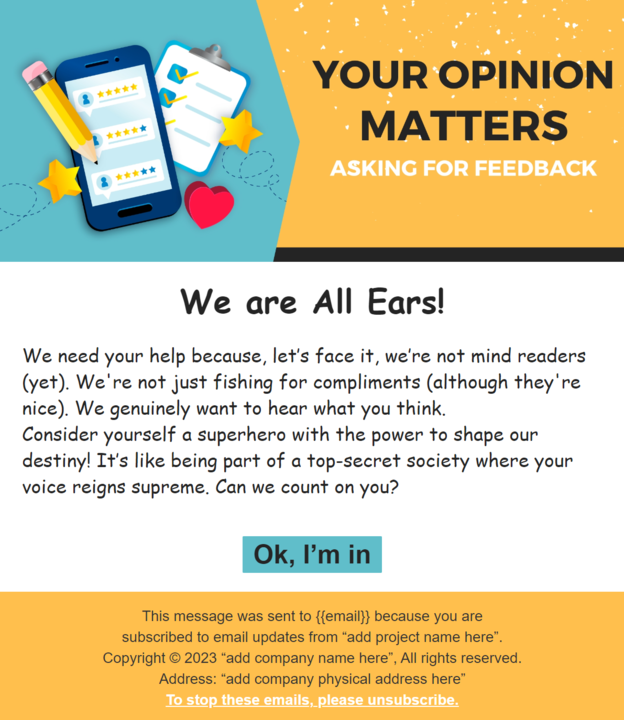 If you have inactive subscribers, you can gain their trust with a re-engagement email campaign or send last chance message with an opt-out feature. Latter ensures your email deliverability with fewer bounce rates and spam traps, which were once legit email addresses.
4. Anti-spam Best Practices
Besides the listed principles, it's important to take extra precautions to avoid triggering spam filters. Spam filters are also vigilant in detecting and countering these elements:
Your text should be grammatically correct and have a logical text flow. If you use broken English that doesn't make sense, spam filters will direct your message straight to spam. It is because a lot of non-native speaker hackers use tools such as google translate to convert text into English automatically.
Extreme use of capital letters
Don't include all capitalized letters in your text. Not only it gives the impression as you are yelling at them, but also ensures that email will be dreaded in the spam folder.
Giving false claims about your product or services is an instant red flag. Being honest about your offers or claims is not only an ethical thing but also your ticket to land in your customer's inbox.
Excessive use of exclamation points or question marks
Yet another spam triggering factor is using too many ???? or !!!!!.
Big and/or colorful font sizes
Choose a standard font size and avoid using colorful fonts. In addition, do not use different font sizes or strangely formatted fonts in your email.
Although we said standardized text is more inbox-friendly, it doesn't mean you shouldn't go a bit wild with colorful, fun visuals. However, you should keep a 60/40 ratio, where visuals take up to 40% of space, to make email mobile-friendly and easier to upload.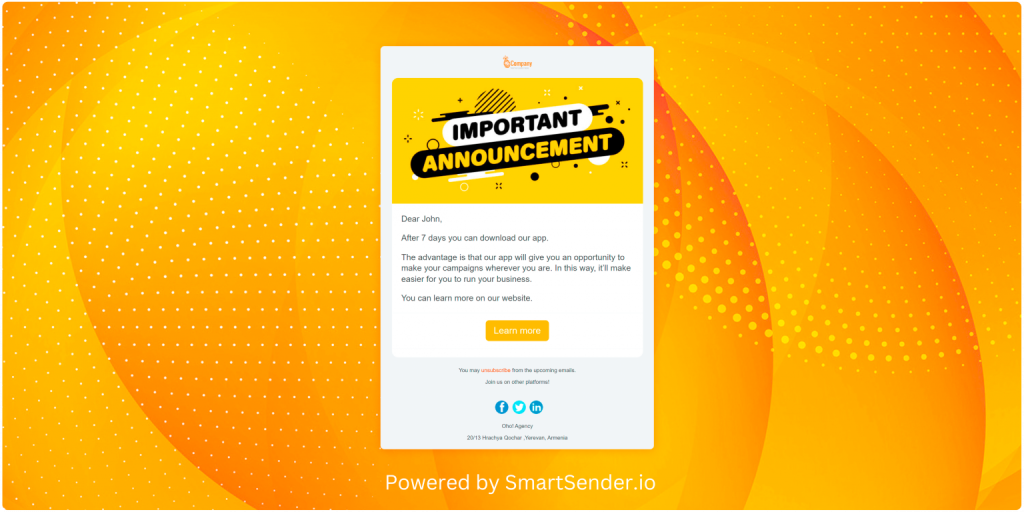 Try to bypass attachments in your emails, especially when sending bulk messages. This is because actual spammers tend to include attachments and, ergo, trigger spam filters. Instead of an attachment, include all information in the body.
Before sending your HTML emails, double-check broken or glitchy code.
To wrap up
Understanding spam trigger words and adopting anti-spam practices in your emails can significantly reduce the risk of being marked as spam. This article provides valuable insights and best practices to ensure that your emails are delivered directly to your recipient's inbox.
We hope this information left no stone unturned in your quest to avoid the dreaded spam folder.