Today's customers require personalized and seamless experiences to manage their finances and financial products across various channels and touchpoints.
Even though their expectations for value and relevance have drastically evolved, many banks and financial institutions still fail to adopt personalized client experiences.
To become fully customer-centric, next-generation banking email marketing is your title holder. Email marketing remains a top player across digital marketing channels because it's affordable yet ultra-effective.
Read on to unveil how banking email marketing works and look up 10 must-have fintech email campaigns.
Why does FinTech Need Email Marketing?
Email marketing serves the purpose of delivering an outstanding customer experience to foster brand loyalty and trust. Banking email marketing fuels the fire of personalized customers' experiences based on their needs, data, or interaction with financial companies.
The reason why personalization is the nitty-gritty of every company's success is that according to McKinsey&Company report, 71% of surveyed consumers expect personalization. In comparison, 76% of them get frustrated by the absence of it. 
At the same time, clients' biggest concern is security and data breach. Therefore, fintech, more than any other industry, should be extra careful with sensitive information and give peace of mind to their customers that their data is safe and transactions are done securely.
When clients complete a necessary action with your financial company, such as creating an account or transferring, 2-factor authentication (2FA) is a must. Find a marketing automation platform that offers SMS, push, or other communication channels next to email.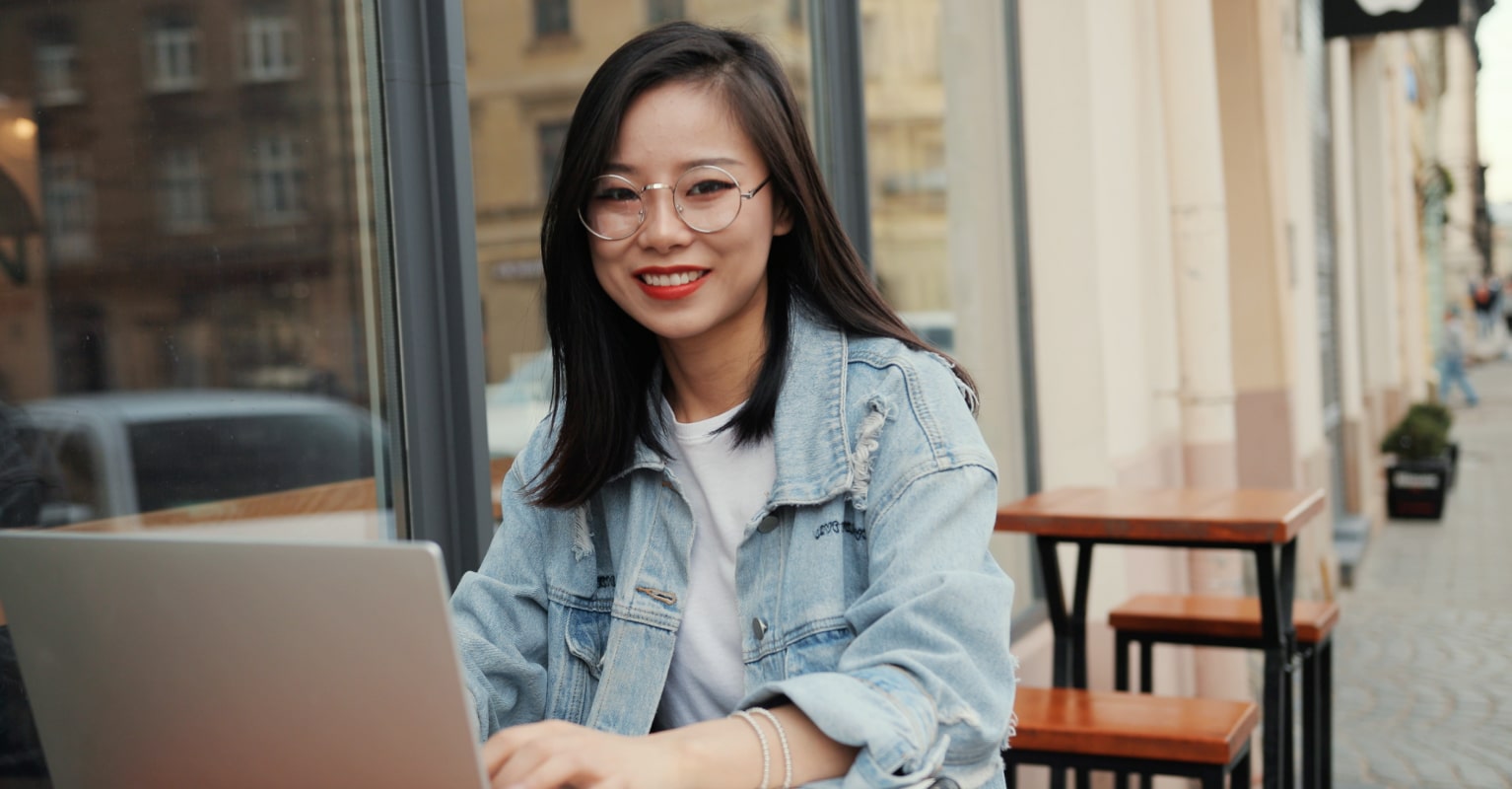 Marketing Automation Platform
Unleash your creativity with marketing automation platform. Retain, regain, re-engage customers in a few clicks.
Pronoun financial service providers are already using the Smartsender marketing automation platform to set up double-opt-in confirmation emails and protect users' data. This is vital for financial companies as cybercriminals will easily hack one-factor security.
In addition to this, with Smartsender, you can automate the following transactional messages:
Password reset requests
Money transfers, adding money to a balance, payment requests
Account upgrades and more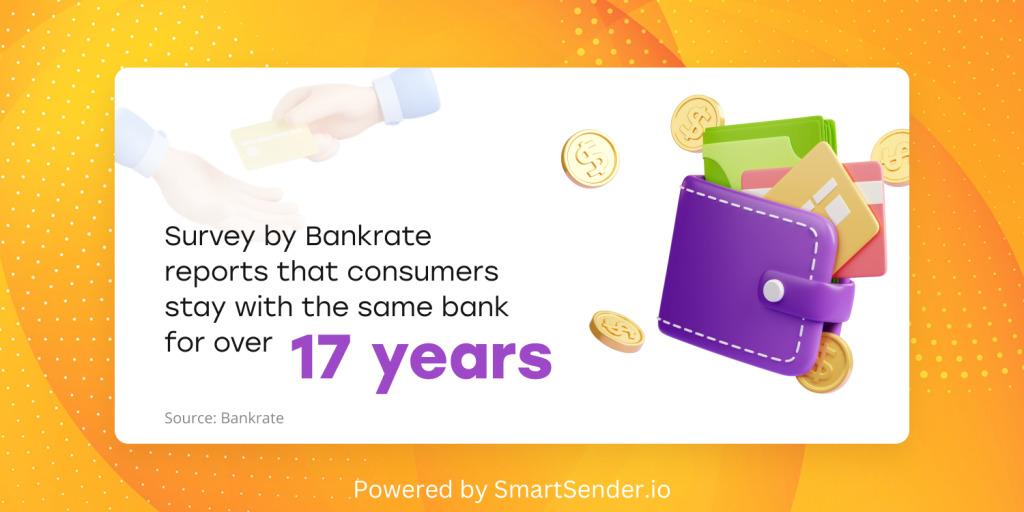 Banking Email Marketing |Fintech Messages
Next to transactional messages, you can use all-in-one features of the platform to:
Onboard/welcome new clients
Educate/guide them
Nurture leads
Automate sales cycle
Targeted banking email marketing can have different goals, but the common one is to build customer loyalty and increase trust. A survey by Bankrate reports that consumers stay with the same bank for over 17 years.
So, maintaining customer engagement and nurturing relationships should be the primary focus of every fintech company, whether it's through transactional, educational, or promotional messages. Coming up, let's reveal the top ten email campaign examples that financial service providers use for customer retention.
1. Email Confirmation after Registration
The double-opt-in email confirmation after registration is a crucial email campaign that almost all fintech companies utilize. The aim is to verify the email address with 2FA after the signup. If you are not using the double-opt-in confirmation yet, you jeopardize your company's and clients' security.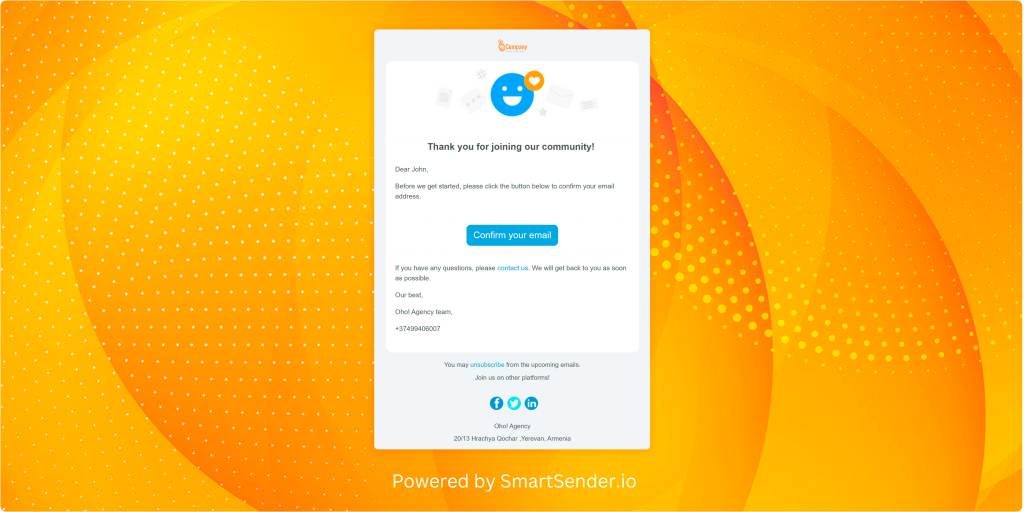 IMPORTANT! Double-opt-in confirmation complies with GDPR. However, if you don't use it, in the case of any data breach, you must inform your customers within 72 hours, or else your company will face harsh fines and penalties.
Visit our Marketplace, where an extensive list of ready-made workflows, including this one with templates, variables, and segments, will be downloaded to your account for free. Then, all you need to do is import it and launch your campaign.
 Time is money! Kickstart your banking email marketing like a pro by signing up for free today. 
2. Welcome message/Onboarding
Let's not forget that the welcome message after registration is the first portrayal of your fintech company. Whether you make it or break it depends on you or on the platform, to be honest.
Choose advanced marketing automation software that offers customized aesthetic newsletters to reflect your brand's persona. In addition, try to bring your newcomers into the fold by onboarding them properly. You can provide educational materials, a walk-through process, or tips to help them get started. See how Paypal does that by listing 3 tips.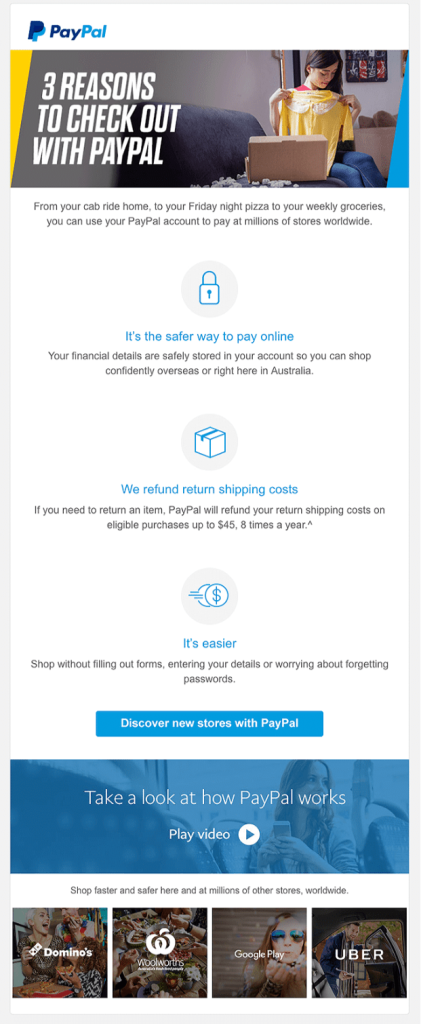 3. Referral Emails
Banking email marketing also includes targeting customers based on their stage on the sales funnel. From new customers to warm leads, you could send referral emails to enlarge your fintech business, no matter what stage they are on your sales funnel.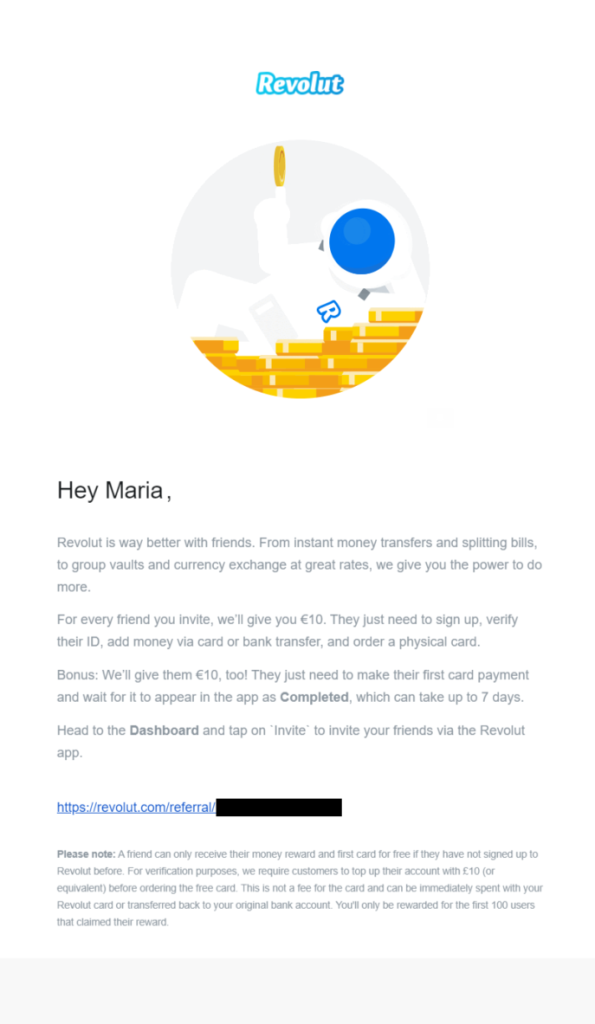 For instance, when welcoming its customers, Revolut sends a referral email right from the start. The content is short yet effective enough to convince newcomers to invite their friends into the fold.
4. Renewal Campaign
If the subscription plan of your clients approaches a deadline or has already expired, a well-thought-out renewal campaign is necessary to retain them or upgrade to premium.
Choose data-driven automation software such as Smartsender.io that uses advanced segmentation and triggers to realize what offers can possibly convert them from freemium to premium (or higher plans ) or detect possible reasons for churn and periods of inactivity.
5. Recommendation Emails
Clients want personalized recommendations that match their needs, interests, and preferences. According to Accenture, 91% of customers agree to share their personal data in exchange for highly customized offers.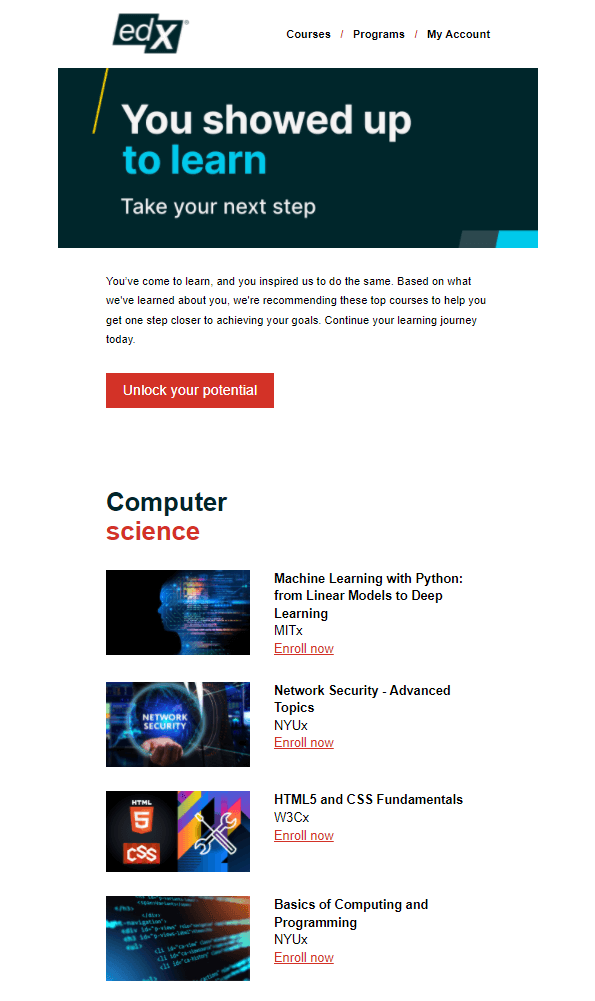 Recommendation emails in the fintech industry can be personalized according to customer behavior, spending habits, or other complex psychographic characteristics. However, this can be done only with a data-driven marketing automation platform with hyper-segmentation features.
For example, with transactional payments and tracking your customers' spending, you can tailor your messages to their needs. If your customer spends a lot of money on traveling, send a relevant offer.
6. Asking for Feedback
It's essential to value your customers' opinions and make them feel heard. That's why you must launch a feedback request campaign for fintech businesses and collect reviews about your company or services.
Not only do you get valuable data about pluses and drawbacks, but you also realize the pain points customers face. This will help to resolve issues ahead before they affect the larger audience. 
7. Post-purchase campaign
Leaving out transactional emails that we covered in-depth, post-purchase messages can have both an educational and promotional nature. 
Informative or educational messages could be related to the latest purchases or trends through weekly or monthly digests. Covid has left its mark on the way people prefer post-purchase communication.
Customers want to know about the advantages of their newly purchased debit card or be informed about the latest offers via email without visiting the branch. That's why the banking industry needs email marketing to retain its customers.
8. Seasonal Offers
Email marketing sales boom during holiday seasons and the banking industry isn't left out too. During seasonal periods, people are willing to spend more, so financial service providers should develop offers tailored to these needs.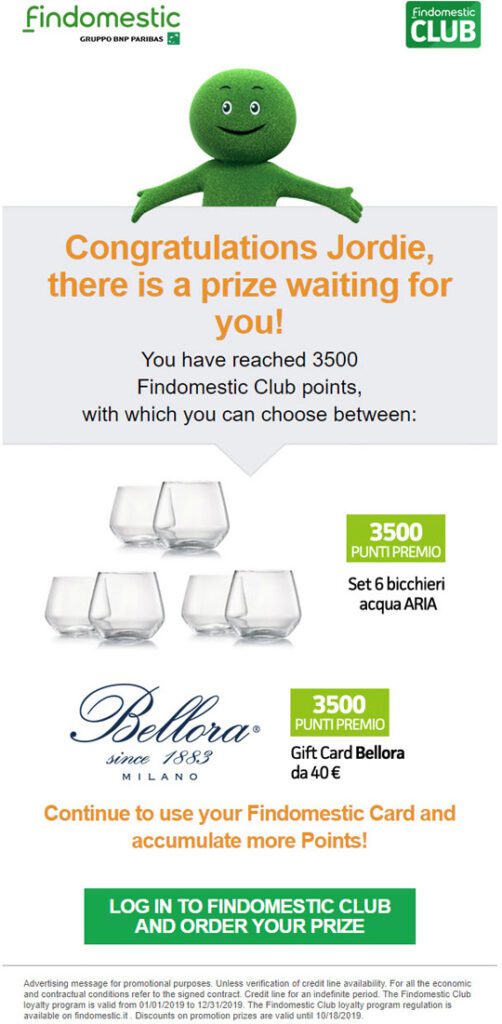 9. Reward Program
Reward email campaigns are specially targeted at loyal customers to honor their faithfulness. Loyalty programs for fintech could be point-based to encourage customers to collect points and receive rewards. For instance, you can include a cashback offer to give points whenever a customer purchases.
10. Upselling Campaign
Email campaigns for financial service providers that use upselling techniques aim to boost sales and retain customers. Upselling and cross-selling are targeted marketing campaigns to offer an upgrade to the current plan with a higher option.
For instance, after using the current plan for a year, you can create an upselling email campaign to offer a pro or premium campaign.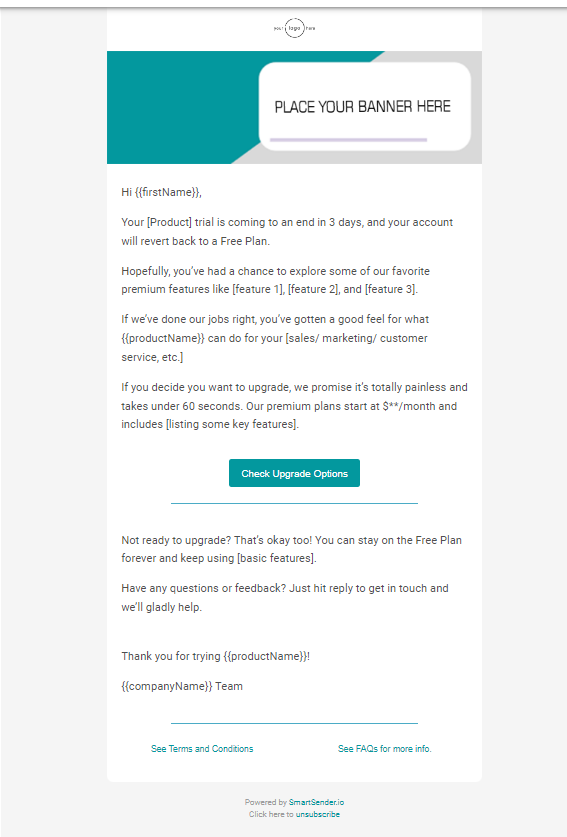 We already have a well-thought-out workflow in our Marketplace to launch your fintech upselling drip campaign quickly. Without paying a dime, import the workflow along with templates, triggers, and variables into your account, and launch it quickly.
To wind up
Next-gen banking email marketing with powerful marketing automation software allows financial service providers to retain customers and build trust and loyalty. With necessary email campaigns, companies:
Send transactional messages
Automate sales cycle
Onboard/welcome customers
Educate/ guide them
Nurture leads