In the words of Amazon founder and CEO Jeff Bezos, "Your brand is what other people say about you when you are not in the room." And the best way to find out what the customer thinks of your brand is by asking for feedback. This article unveils how collecting customer feedback can help your SaaS business. So, let's dig in!
Why are Feedback Requests important?
Clients need to be heard. A study revealed that 77% of consumers have a higher opinion of companies if they ask for feedback and they respond to it.
Businesses strive to pile up as much positive feedback as possible. However, negative reviews shouldn't be ignored too. Pronoun companies, especially SaaS businesses, pay attention to the client's feedback 24/7 over the course of the product life cycle.
Learn how you can leverage feedback requests to improve your SaaS product:
Thanks to it, you get the pain points the clients face while using your software
Feedback will help to anticipate your customers' future needs and resolve an issue ahead before it directly affects them
You earn trust and credibility. When users see that their opinion is validated and you are willing to cater to their needs, you gain their trust right off.
It is clear that the purpose of the feedback is not only to enhance customer satisfaction but also to give valuable suggestions for product improvement. Next, we unlock a bunch of handy tips to help you craft effective customer feedback.
1. Select the Feedback Methods
You can pick a method of feedback depending on what you want to learn from your users. Mainly, these are the feedback metrics to measure customer satisfaction:
Net Promoter Score (NPS): This is commonly used to evaluate clients' loyalty to your brand. It's a one (maximum two) sentence question to rate a product/service/company 0-10.
Customer Satisfaction Score (CSAT): This is almost identical to NPS, only this time, the main focus is the ease of experience with the product
Customer Effort Score (CES): This also tests ease of use, but this time, how the company helped provide guidelines.
NPS metric, for instance, has a standard format with a one-question survey. NPS questionnaire usually starts with a "how likely would you rate" sentence assigning 0-10 to measure the likelihood of a recommendation.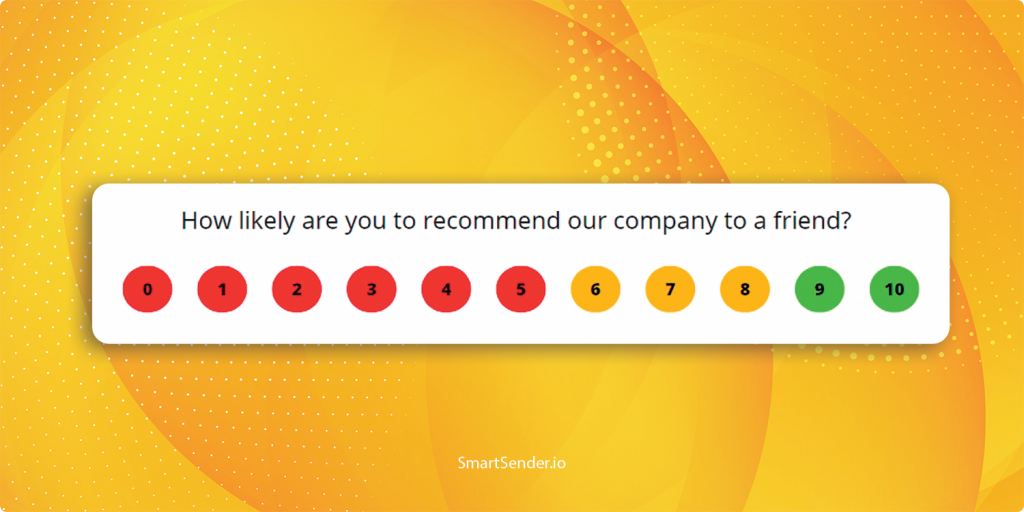 It can be sent via different channels such as email, social media, etc. Email is one of the powerful ways to get feedback from your customers. They can be and should be automated, making the process even easier.
Keep in mind that email surveys must be short and on point requiring little to no effort from your user to complete them. Ideally, they should be embedded in the email, which eliminates the need to navigate to a different page in order to respond.
2. Timing is crucial
Don't rush into sending a feedback request when your users haven't even tested your product. You must give it at least a week or month before they form an opinion about it.
For instance, the best time to send NPS messages would be after the onboarding process. This usually follows after the first "aha" moment when users accomplish a significant milestone with the product.
3. Personalize it
Generic emails that sound robotic won't get you the good reviews you need. It takes a well-crafted, personal email to receive more visibility and trust in your company.
Easily personalize your survey requests with the Smartsender.io automation platform. For example, with automation, you can send personalized messages from the company's CEO, assign a point of contact, etc.
4. "Thank you" Note
Completing surveys or leaving feedback can be extremely valuable for your business, so let your users know how important their opinion is. They can help to improve your SaaS product and encourage new lead generation. Whether it's negative or positive, thanking them by separate email shows your appreciation for their reviews.