You poured your heart and soul into developing a new product, and now you want to spread the news. But, before you do that, it's crucial to ask yourself these very questions: Do I have a solid strategy to be a winner in the competitive market? How can I craft a successful product launch campaign?
These questions have utmost importance because, according to the Harvard Business School, the biggest issue companies face when launching a product is a lack of preparation.
That's why we did in-depth research to come up with helpful tips and offer you a bunch of pre-launch email campaign templates. So let's dive into it!
Key to a Powerful Pre-launch Email Campaign
Prelaunch campaigns generate hype and anticipation around your new product or feature. On top of that, you share the value of it with your interested audience. But the question is how to stand out when your customers' inboxes are flooded with marketing emails. Here are some tips to have in mind:
Analyze your target audience: Marketing automation software has become an integral part of any marketing strategy for any type of business. Annuitas Group reports that automation software can show a 451% increase in qualified leads. So, using analytical tools of an automation platform can give valuable and functional info about your target audience (e.g., demographics, personal interests, etc.) to send personalized messages.
Segment your contact list. It helps you increase conversion rates and not only.
Timing is key. You must prepare a prelaunch email sequence and set a timeframe for each period.
Remember, the main goal of a prelaunch email campaign is to let your target audience know about it. It is a subtle way to insert your product name on top of your customer's mind before its big release.
This can be an effective word-of-mouth marketing strategy to spread the news about the product. In fact, Nielsen reports that 56% of people cite friends and family recommendations as sources of new product awareness.
So, it's beyond the question of how critical prelaunch preparations are. You just need to define the timeframe for each period and send your email sequence accordingly. And guess what? We covered that too! Read on to learn more!
Warm Up Emails for Prelaunch Campaign/Templates
Warm-up emails ramp up interest and provide a quick value for your new product or product's feature. Start your prelaunch email campaign 7-14 before the actual release date. It will give you enough time to build anticipation and buzz around your product.
Your initial email is a teaser of your product, so make it loud that something big is coming. Be sure to include vivid design colors, a well-written copy, and clear CTA buttons to tune them in.
Take a look at this ready-to-use template which you can download from our Marketplace and use for inspiration. The workflow with all variables, segments, etc., along with templates, will be imported to your account.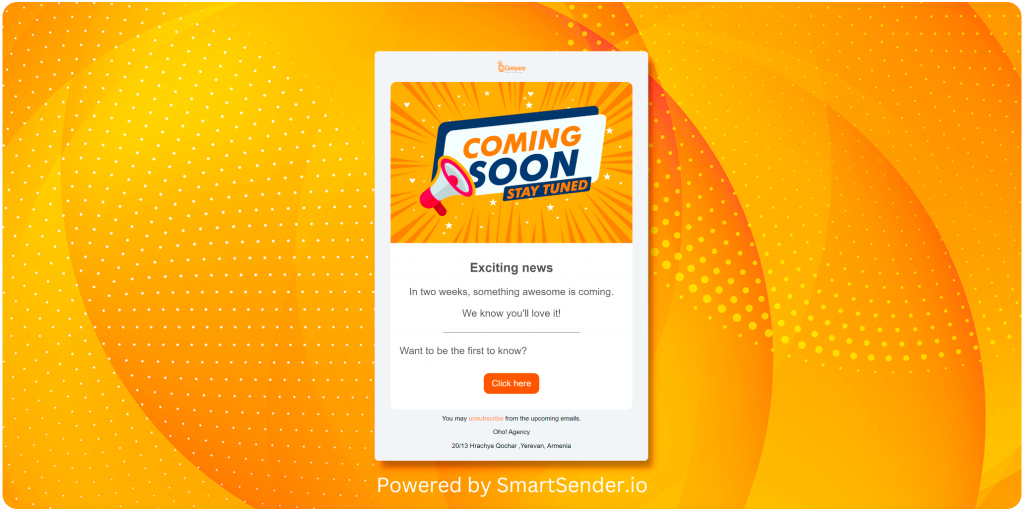 Next, you can include the date and time of your product's release and briefly describe what problems it can solve for your potential customers. Besides, have a clear CTA linked to a proper landing page.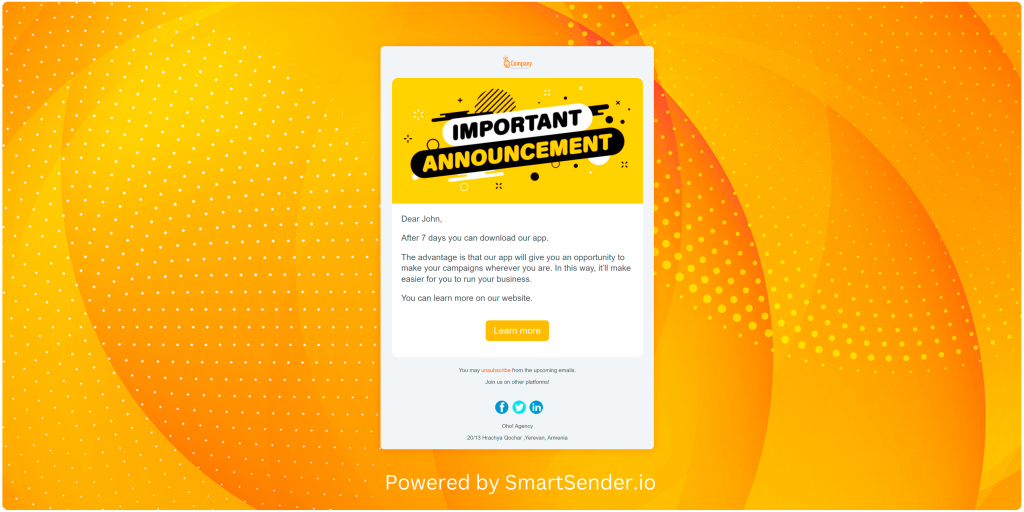 You may use various communication methods for your prelaunch campaign, but make sure not to overuse them. Integrating an omnichannel approach into your marketing strategy assures a brand presence across various channels. You can set up a workflow with Smartsender.io and send telegram, SMS, and web push notifications along with your warm-up emails.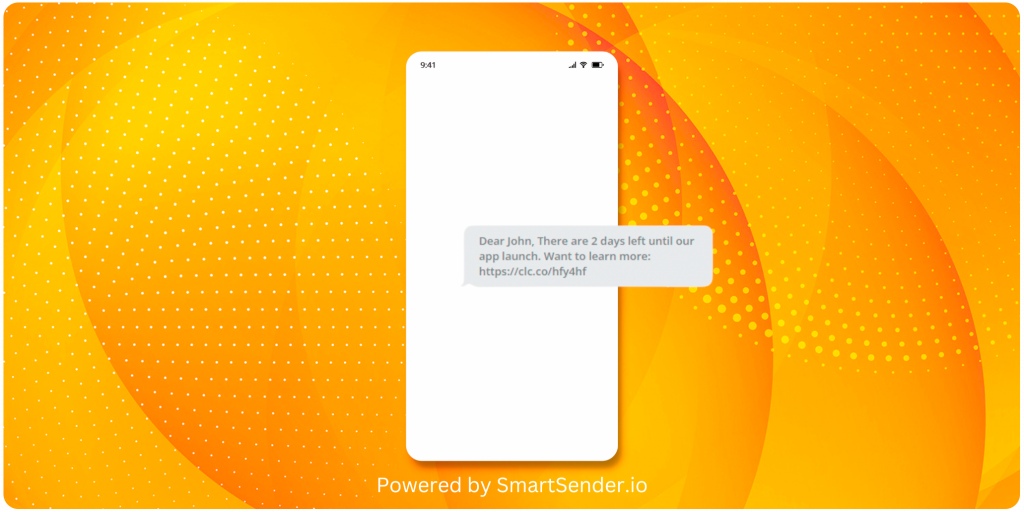 Don't forget to offer early bird discounts and freebies for those who sign up for your new product. Also, consider giving them a pre-order option for your new product. It guarantees sales upon launch, seeds trust, and later boosts high CLV (Customer Lifetime Value).
Product Launch Emails/Templates
Drum roll, the big day is around the corner. So it's high time to craft your last-chance emails. You can send a last-chance email two days before the big release.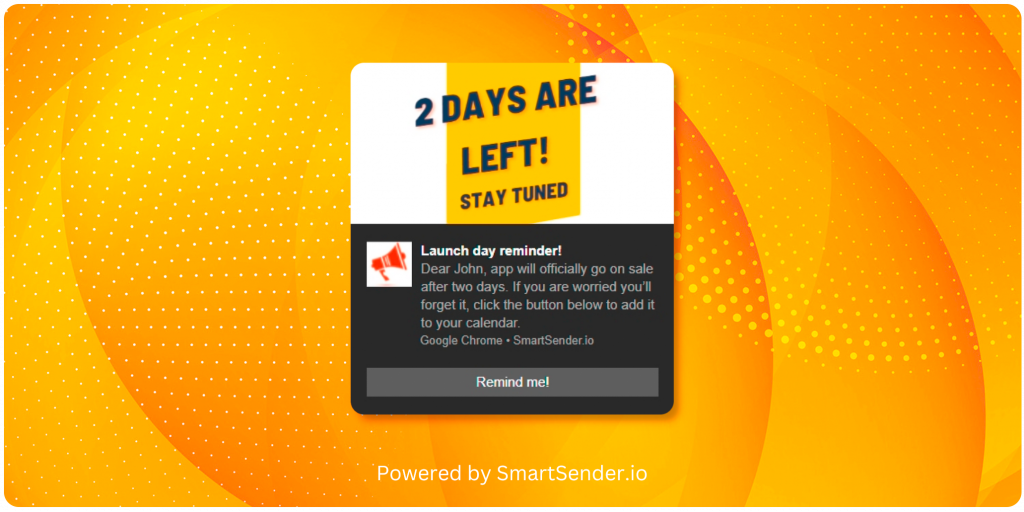 In addition, make it crystal clear that the time to purchase is now. You can do this by including a countdown timer and early bird discounts, which encourage them to take action right off the bat.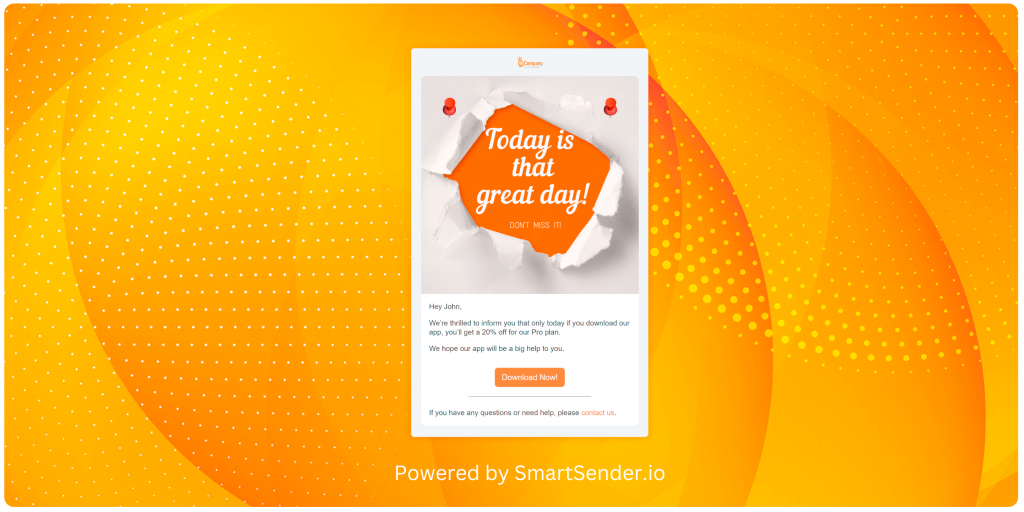 On the actual release day, send your email to officially launch your product. Here too, you may offer freebies, discounts, or a one/two months trial of your premium plan. Ensure your landing page is festive and sets the mood that your product launch is extra special for your target audience.
In a nutshell, here are two main takeaways from this article:
Prelaunch emails are essential for building anticipation and buzz around your new product
A well-thought-out prelaunch email sequence is necessary for a powerful product launch. You just need to define the timeframe for each period and send the chain of automated emails accordingly.