Have you ever wondered how marketers come up with the best decision that drives sales and increases income? Do they have a sort of crystal ball to predict the wants and needs of new or existing customers, or do they solely trust their gut feeling? Of course not!
Enter A/B testing, marketers' favorite tool to make data-driven decisions and optimize their marketing campaigns.
When it comes to email marketing, the term a/b testing or split test implies the comparison of two or more variations of one email to determine which one performs better. The ultimate goal is to improve the performance of email campaigns and, thus, increase conversion and engagement rates.
As Smartsender.io Marketing Automation introduces updated features of A/B testing, we thought to offer you a guideline on running split tests to inspire you to create the best a/b testing marketing examples. So, let's dive into it!
Benefits of A/B Testing in Emails
A/B testing allows optimizing your campaigns by revealing the components of the email that perform the best.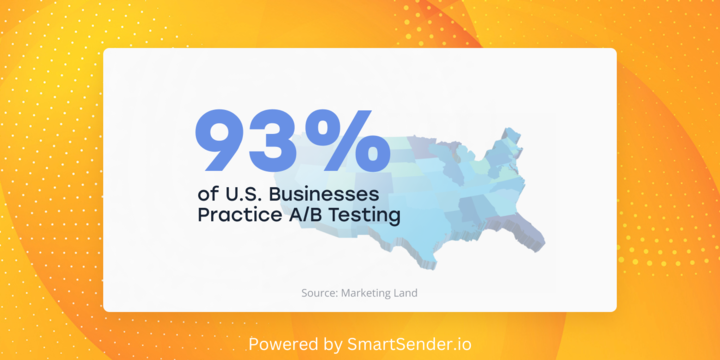 Pronoun companies constantly practice the technique with practical a/b testing marketing examples. According to Marketing Land, 93% of US businesses use A/B testing before sending emails. This is because A/B testing of your campaigns ensures:
Increased conversion rate: Invesp reports that 58% of companies already use A/B testing for conversion rate optimization (CRO), and 38% plan to use it. This underscores the growing need to employ split testing to ensure the success of business strategies.
A better understanding of your target audience: Split testing gives valuable insights into your customers' behavior. Businesses can develop data-driven decisions that will positively influence their engagement rates by evaluating metrics such as OR and CTR of each variation.
How to Run A/B Testing?
To conduct effective A/B testing, it is crucial to utilize all-in-one automation software, allowing audience targeting across different channels. That's where Smartsender.io comes into play, allowing businesses to A/B test various components of each variation via 3 different channels:
Once you pick the channel, select the variables you want to test against each other. Smartsender's A/B testing allows comparing the performance of max. three templates with variations of the following components:
Content
Subject line
From name
Launch time
The split testing process is straightforward, requiring little to no effort, unlike other platforms that make it seem complicated. However, there are specific details of each step you should be aware of when planning and implementing your A/B testing. Read on to uncover them all!
1. Select the Channel
As discussed earlier, A/B testing marketing examples can be run across multiple channels, including email, web push, and telegram. Yet, the common channel remains email, with 347,3 billion emails sent and received daily.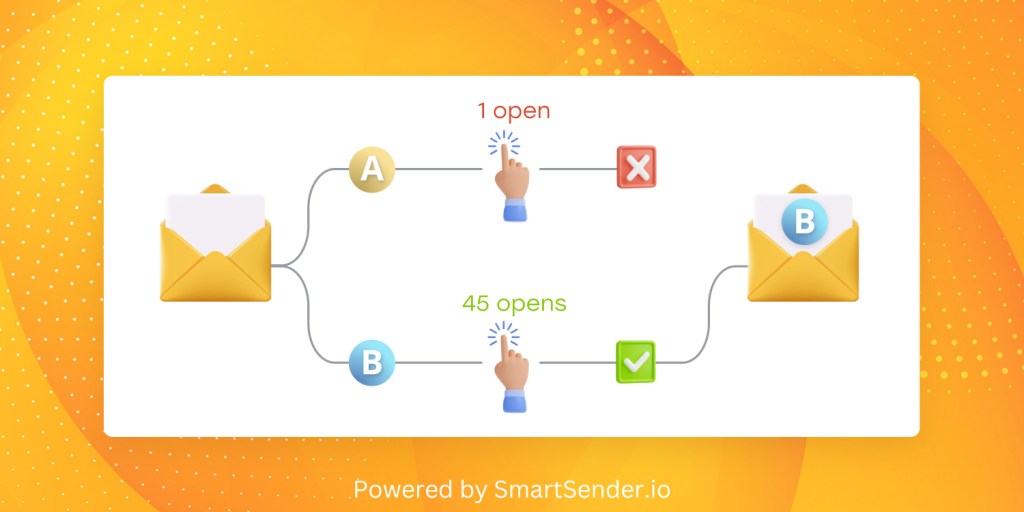 As soon as you pick the channel and the test component, the next logical step is selecting the sample size. The sample size indicates the number of users you need for each variation of the test. You can use Evan's sample size calculator to accurately determine the sample size of your split test.
If you fill out the baseline conversion rate, which is your current conversion rate and the minimum detectable effect (MDE), the calculator will tell you the right sample size for your A/B testing.
In case you have a large subscriber base, it's always recommended to test on the max. 20% of your customers. Accordingly, one variant will be sent to 10%, while 10% will get another, and based on the accumulated data, the rest of the 80% will receive the winning version.
This ratio is recommended so that your end result is statistically significant. Statistical significance demonstrates that the results are not due to some error or random chance. To clarify, if your test shows a 93% significance level, you can be 93% sure that dissimilarities are real. 
2. Test Components
Test components can make a huge difference to the CTR and OR. Imagine a subject line that starts with:
26% off for the entire collection and
Entire collection is 26% off
Of course, the winner will be the one starting with the number. This is not just the gut feeling of the marketer; A/B testing over time has proven the effectiveness of starting the subject line with numbers. So, let's discover more tips and practices for other testing components too.
From Name
You might think "from the name" your email is not a critical factor for open rate. The truth is businesses introducing their position or full name have gained more open rates. Some companies also include the CEO's signature as a postscript. But we keep saying, don't trust it until you test it!
Subject Line
Crafting a compelling subject line can make all the difference in how your email is received by your customer. Remember, it's the first thing they see, so make it count!
Don't forget that personalization plays a key role in the performance of your subject line. Personalization has been proven time and time again to be a game-changer. Personalized subject lines have been proven to achieve higher CTR and open rates.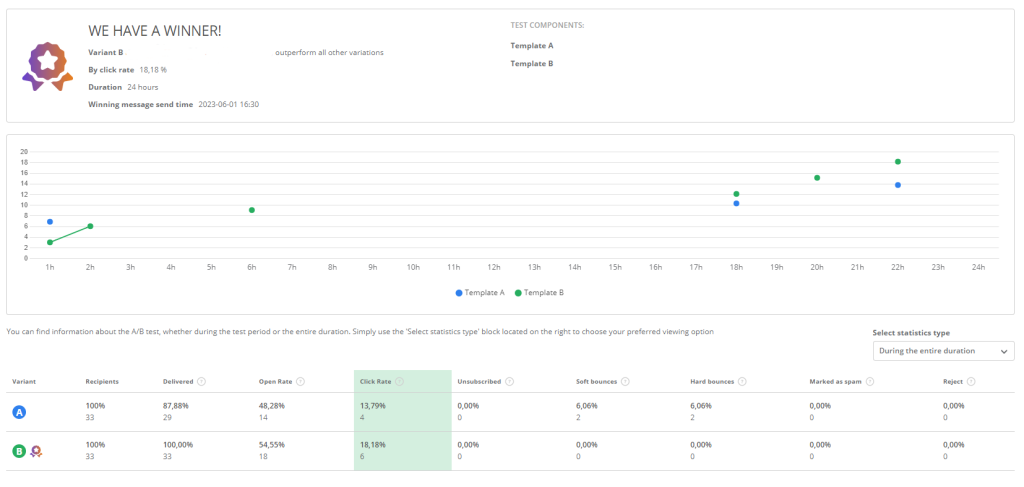 Content
It's beyond a question that two or more contents should be tested before sending the winner. Let's give you an a/b testing marketing example to understand its importance:
Say you want to re-engage your inactive subscribers with the re-engagement email campaign. You may wonder if discounts, bonuses, and freebies will do the trick or simple newsletter introducing the latest features will be enough.
The only way to find out is through A/B testing. If a simple newsletter with aesthetic templates works just fine, why waste your money on freebies or crazy discounts?
In addition to testing content, subject line, or from the name, you can also test launch time to identify the best date and hours to launch your campaign.
To wrap up
A/B testing ensures an increased conversion rate and a better understanding of your audience. To run A/B testing, opt for omnichannel marketing automation to test various components of each variation via different channels.
With Smartsender.io, you can run A/B testing via email, web push, or telegram and test the following components:
Content
From name
Subject line
Launch time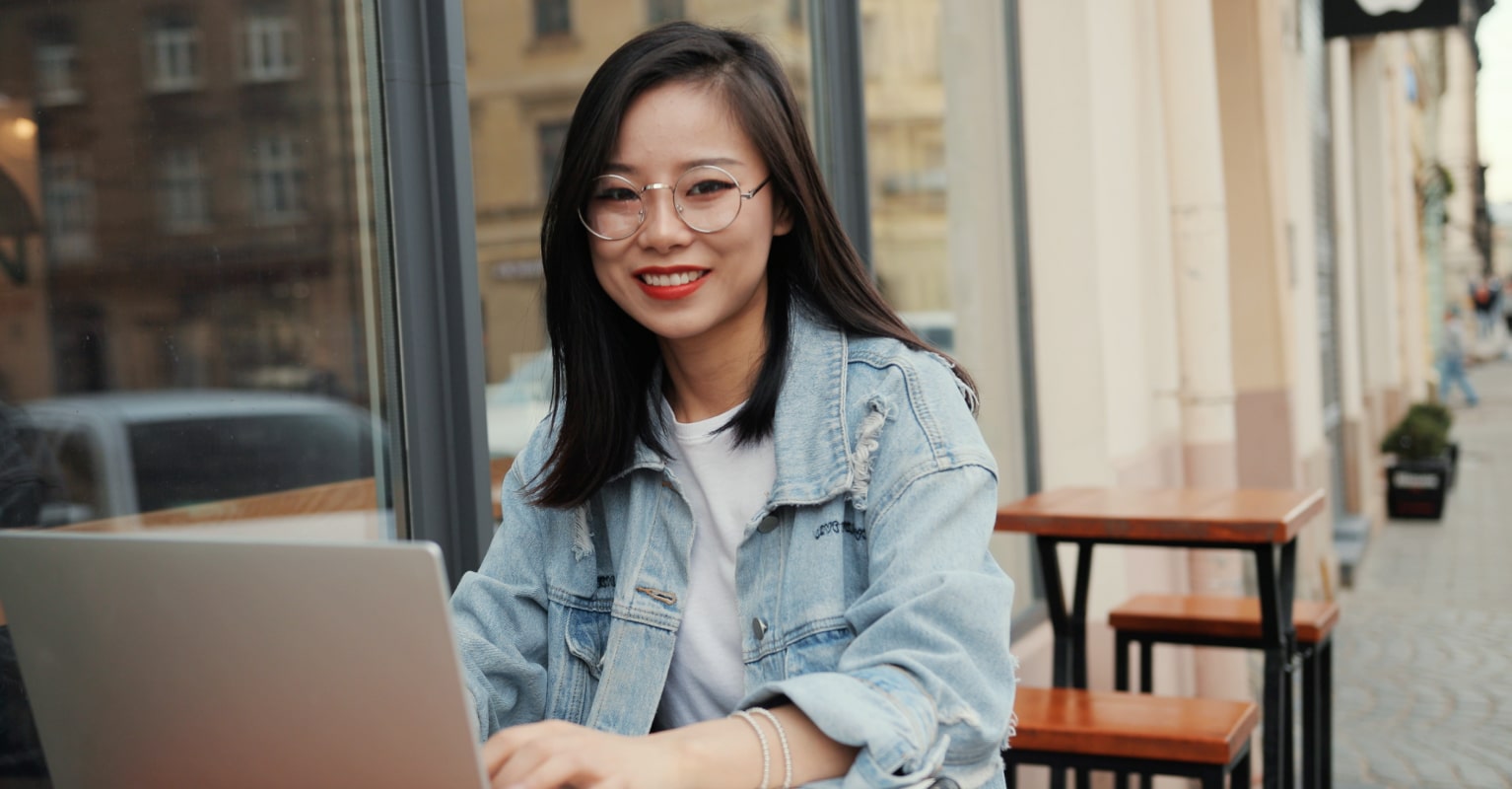 Marketing Automation Platform
Unleash your creativity with marketing automation platform. Retain, regain, re-engage customers in a few clicks.