Every company strives to pile up loads of satisfied customers who are willing to return and make regular purchases. That's where customer loyalty programs come in, helping businesses draw new customers and retain existing ones.
A well-structured reward marketing is essential for any business growth because, according to a study by Technology Advice, 82% of clients would shop more from companies that offer some type of reward program. So, let's dig deeper into the topic to unveil the best loyalty program examples and how to use them in marketing automation.
Why do I need Customer Loyalty Programs?
The main objective of customer loyalty programs is to entice new or current buyers to make repetitive purchases with a reward strategy roadmap. Have a look at loyalty program examples from famous companies that are aimed to
Increase Customer Lifetime Value: If you invest in customer loyalty programs, your client's engagement rate will increase, and you provide positive reinforcement: two absolutely vital components boosting the CLV.
Drive more sales: This is the ultimate goal of the customer loyalty programs; to encourage more purchases by offering various forms of rewards.
Build a brand presence and be recognizable: Every company's dream is to have a loud trademark that associates with the product as a whole. Take the example of the brand Kleenex, which is generalized to refer to every facial tissue out there.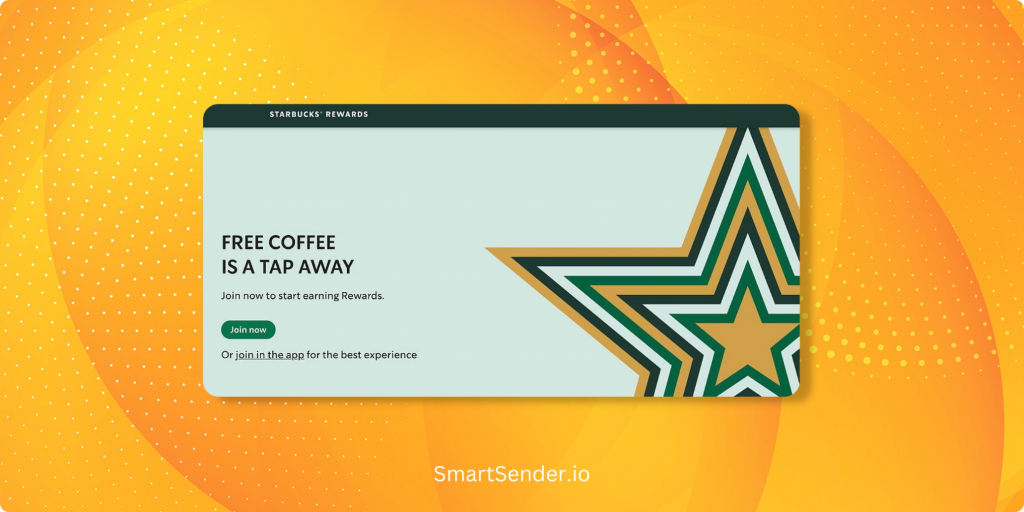 Case in point, see how Starbucks' reward strategy works. The company encourages earning rewards by joining their program and getting free coffees. This sets the basis to move up the loyalty ladder from an interested prospect to a brand advocate. Read on to learn more about the loyalty program examples and types commonly used by pronoun companies.
Customer Loyalty Program Types
Reward marketing helps both customer acquisition and customer retention. You keep customers engaged with rewards such as discounts, freebies, and bonuses. It is primarily done by offering the following loyalty program options:
Point-based
Vip
Tiered
Gamification
Point-Based
A point-based reward system is frequently used by companies to encourage customers to collect certain points and redeem a specific product or service. While this is the most common reward program type, remember that it doesn't give the urge for instant gratification.
VIP program
People are more prone to make repetitive purchases when they feel exclusive and most valued. This is when the VIP program comes in to make them feel superior with granted rewards such as
Freebies,
An early peek at the product launch,
Special discounts, etc.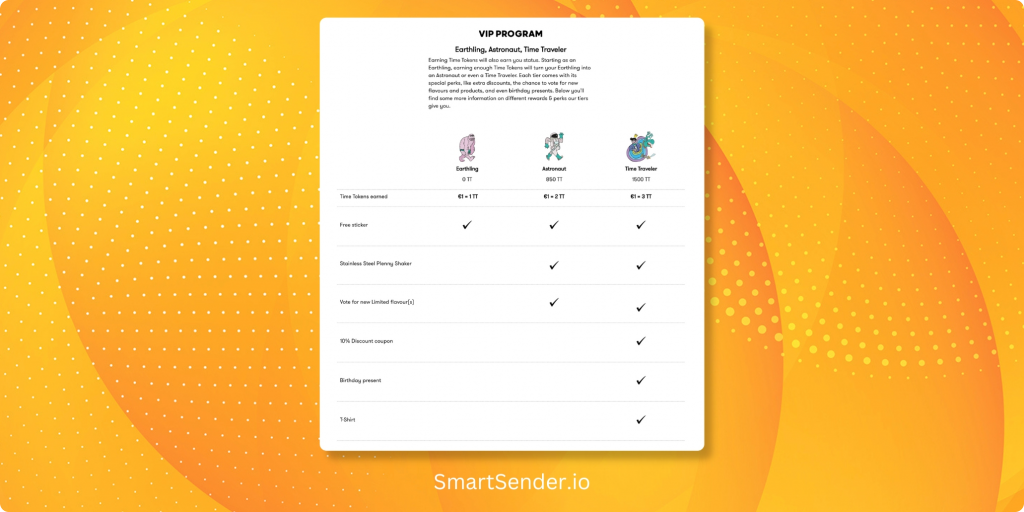 While customer acquisition is necessary for the company's healthy growth, you should remember that it costs 10x more to acquire a new customer than retain the existing one. And bussiness.com reports that existing customers spend 67% more than new ones. So, chasing new customers with VIP offers while ignoring your loyal ones is beyond pointless.
Tiered reward program
A tiered reward program allows moving up the loyalty ladder by providing different incentives. For example, a higher service or product will be offered if the customer hits a certain threshold.
Let's say you have a new client who just signed up for your e-commerce website. Here is how a tiered reward system would work:
1st tier: offers free shipping for the first order
2nd tier: Hits a certain threshold and gets a 30% discount
3rd tier: Freebies or gift cards in the amount of $50 -$100 (at this point, they reach VIP status)
Gamification
Gamification is always effective because people love to compete, and ultimately, reaching VIP status will be a cherry on top. Here is how gamification applies to reward program:
Collecting points: As we mentioned, a point-based system is commonly used by companies to keep customers engaged and drive more sales.
Earning badges: Offering badges after a certain action motivates a customer to climb up to the higher badges and, ergo, make repetitive purchases.
Reaching milestones: Another smart way to encourage clients to channel their competitive energy and achieve set milestones.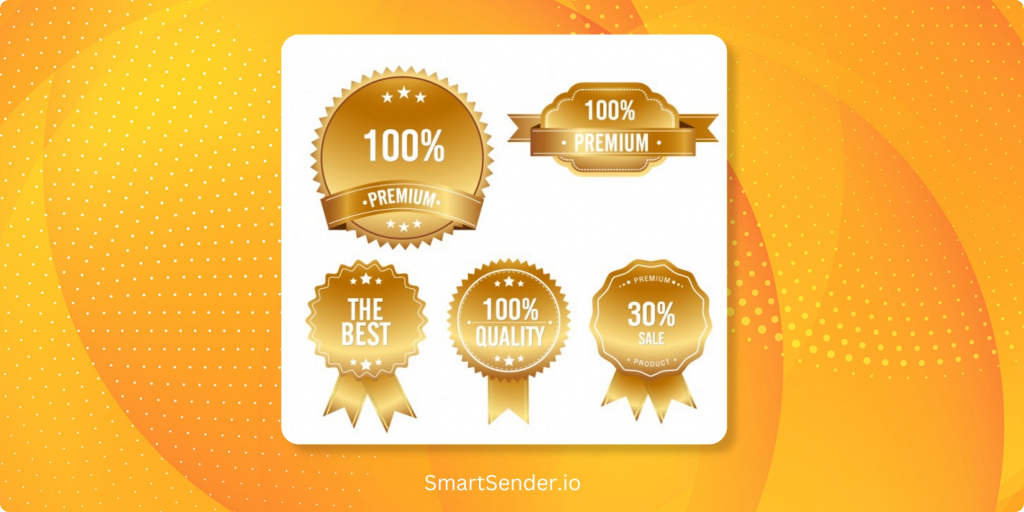 Loyalty program examples are virtually endless, and you don't have to stick to one program type forever. Instead, for a better experience, you may combine two or three program types and experiment with different copies, CTAs, and subject lines with A/B testing to understand which one performs better.
How to create a powerful reward program? Tips and Ideas
Now that we have a better understanding of what the program entails, it's time to discuss how to craft an effective reward campaign. Follow these guidelines and loyalty program examples when launching your email campaign.
1. Segment your audience
Behavioral segmentation is every marketer's best friend and a must-have tool allowing them to send personalized offers tailored to the customer's wants and needs.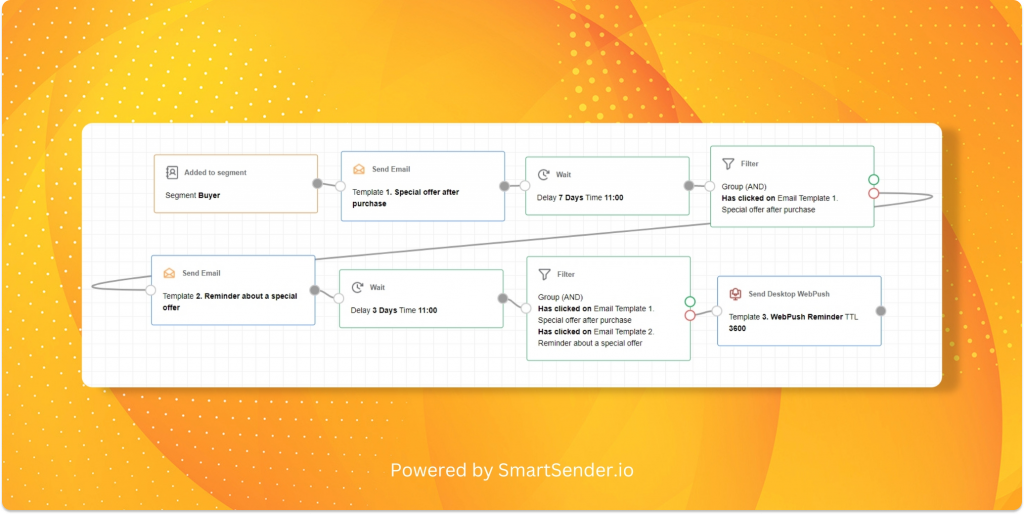 When you assign your reward program to the marketing automation software, you can send targeted emails based on customers' purchase history and demographic data.
2. Timing is everything
Start your reward program as early as the first purchase of your product. Post-purchase emails are essential for nurturing customer loyalty and CLV. Offer a point-based reward program that keeps them returning and making repetitive purchases.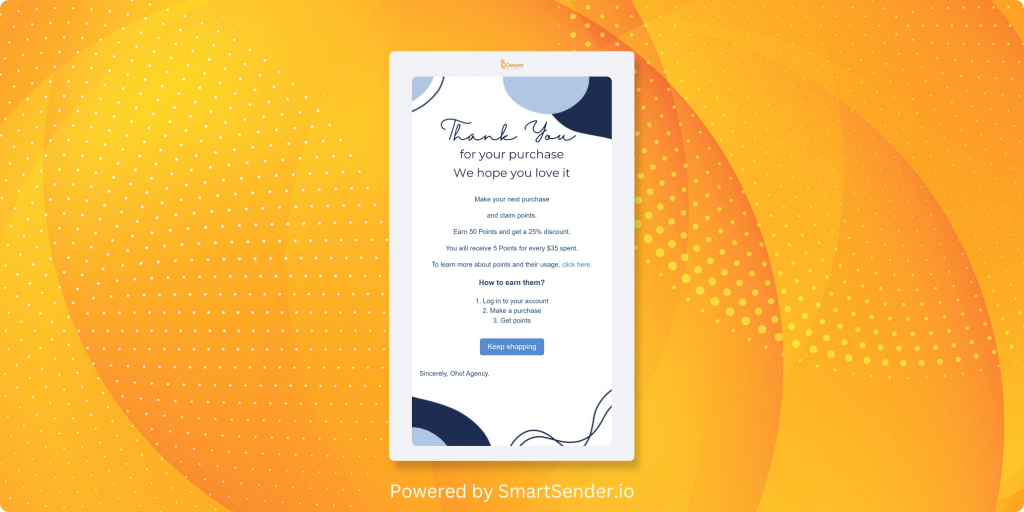 However, it can be costly to offer crazy discounts or freebies at the very start of your relationship with a customer. So instead, follow their journey with your product which can help you to come up with personalized offers.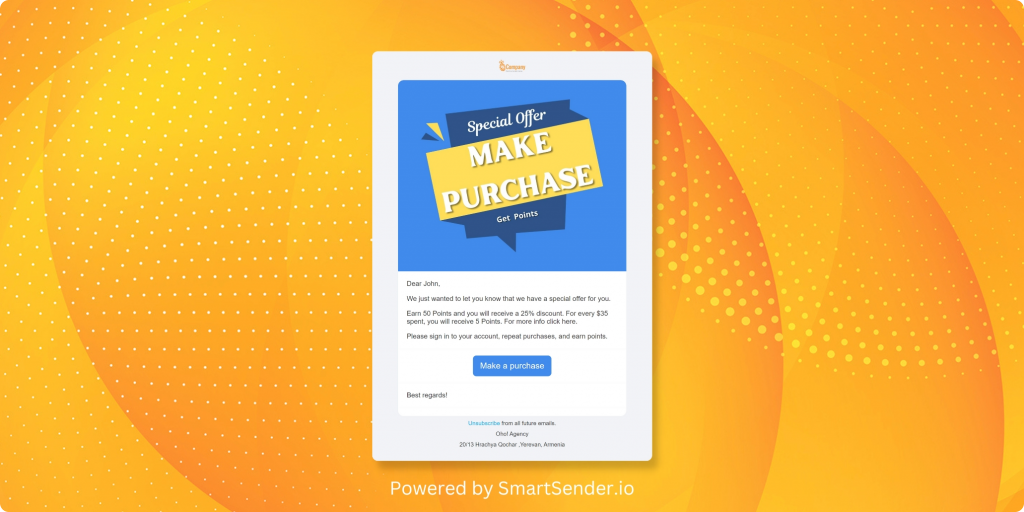 Segmented customers who didn't open the first email can be reminded with a follow-up email, say after a week. Opt for clear and short copy, a catchy subject line, and vivid designs to stand out in the pile of messages.
3. Create an omnichannel experience
This means a seamless customer experience across multiple channels and devices. A recent study by Statista revealed that 85% of clients use mobiles to open their emails. On top of that, sending your messages via different channels doubles the chance of eventually getting noticed.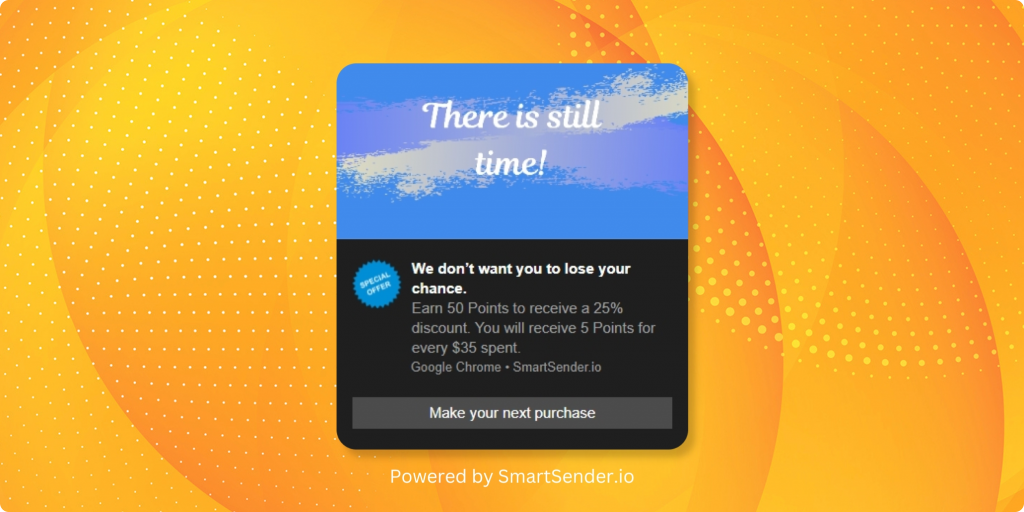 When launching your drip campaign, you may set up a three-day waiting time after the last reminder and send a web push notification. SmartSender – OMNICHANNEL MARKETING gives marketers a golden opportunity to automate their reward programs and send customized offers by email, SMS, web push, and/or telegram.
4. Send Rewards on Special Events
Special occasions are always a good time to remind your loyal customers how much you appreciate their business with you. It is also an ideal time to increase your customer retention rate. Here is how:
Send birthday emails. Your loyal fanbase should be rewarded with birthday specials such as discounts, freebies, gift cards, etc. Even if you don't offer anything, a heartfelt, sincere message that puts smiles on the face will be well-appreciated.
Create holiday campaigns. The holiday season is the ultimate heaven for e-commerce and brick-and-mortar stores because most of them make their profit during this period. So craft a well-thought-out reward program for each special holiday, such as Christmas, Valentine's Day, Thanksgiving, etc.
To wind up
Customer loyalty programs are not only used to attract new shoppers but also to retain the current ones. The main objective is to bring customers back with various reward programs.
When automating your reward program email campaign, you will reap countless benefits. However, the main one is sending targeted messages via various channels, such as email, SMS, telegram, and web push.