In today's competitive market, it's not easy to survive in the jungle, let alone make your mark. Even more troubling is when you increase client acquisition or retention spending while still receiving little to no outcomes.
Yet, if you are up to the latest marketing statistics, you must have heard that email marketing still remains the top player in digital marketing and sales channels. For every $1 you spend, email marketing generates a whopping $44 ROI.
This is all thanks to email automation, which can help you to reach and engage with customers on a whole new level. So, let's explore the top 10 email automation tools to look for in email automation platforms, with their advantages and disadvantages for various business types.
10 Email Automation Tools to Consider
Email automation software offers targeted and personalized communication according to pre-determined triggers or customers' specific actions. Later, can be translated into:
Increased sales
Better engagement
Brand loyalty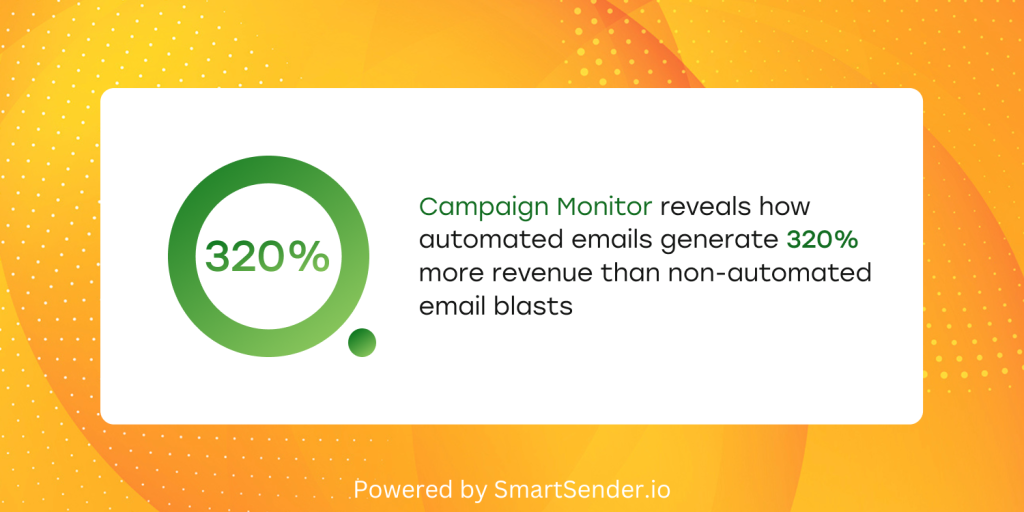 Need more convincing? The Campaign Monitor study reveals how automated emails generate 320% more revenue than non-automated email blasts.
Successful companies are well aware of this and already leveraging marketing automation software to achieve new business heights. According to Business Insider, 90% of surveyed CMOs of leading companies will have marketing automation tools by the end of 2021. That's how vital it is for a company's growth.
However, it's essential to be aware of the key features that powerful email automation software entails. When choosing email automation software, look for these top 10 email automation tools:
Personalization
Advanced Segmentation
Dynamic Content
A/B tests
Multi-channel communication
Automated follow-ups
Pre-made templates and workflows
Multi-user access
Detailed Analytics and Reports
Integrations
These are solutions only all-in-one marketing automation software can provide. Enter Smartsender.io, all these high-tech solutions in one platform. Sign up for Forever Free Plan today to see results in practical terms.
So, let's discuss the key features and benefits of these email automation tools, as well as any drawbacks and limitations that companies need to be aware of.
1. Personalization
The role of personalization is essential in any business marketing strategy to send relevant and targeted messages. Google surveyed leading marketing and measurement executives to discover that personalization contributed to their profitability by 90%.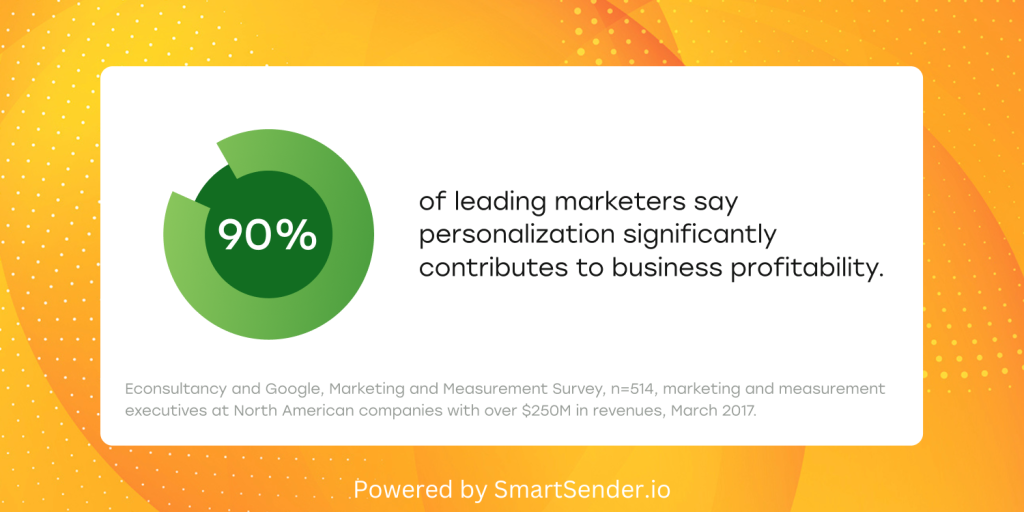 This is because 71% of customers expect personalized communication from brands/businesses, and 76% get frustrated by irrelevant offers (Source: McKinsey and Company).
Pros:
Increases revenue
Improves customer experience
Boosts loyalty
Cons: Some consumers may interpret personalized messages as an "invasion of their privacy." Targeted messages may make them feel troubled, considering the fact that software detects their behavioral patterns.
2. Advanced Segmentation
Compared to traditional segmentation, which groups customers according to location, gender, or age, advanced or hyper-segmentation goes beyond these characterizations. Advanced segmentation divides customers into even smaller categories considering additional factors such as:
Behavioral patterns
Personality traits
Individual Interests
Preferences, etc.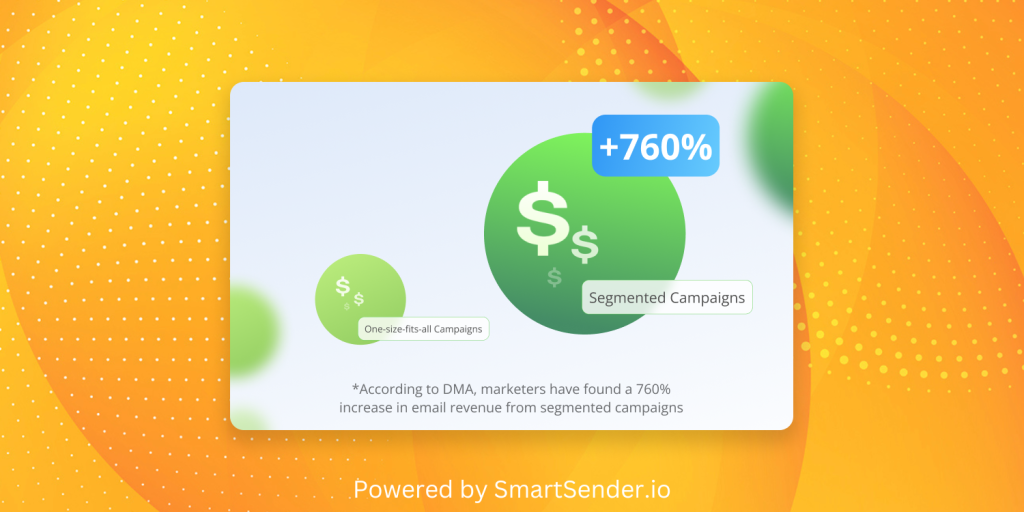 For example, a company that sells baby products can use advanced segmentation to target new parents with relevant messages.
Pros:
Increases revenue
Enhances customer experience
Reduces unsubscribe rate
Boosts customer retention
Improves sender's reputation
Cons: Here, too, the main drawback is data security concerns by customers. Some may not like the fact that companies know "too much" about their needs and preferences.
3. Dynamic Content
Often used in marketing to boost customer engagement and conversion rates, Dynamic email template changes according to user signals in behavior, interests, and preferences. Examples of dynamic content include personalized product recommendations based on browsing history or post-purchases.   
Pros:
Personalized experience
Increases revenue
Better engagement
Cons: Consistent maintenance is necessary to keep dynamic content relevant, which can be time-consuming.
4. A/B Testing
A/B testing or split test is creating two or more versions of one piece of content, with changes to a single variable. It is a marketing experiment to split your audience to test the number of variations of a single campaign to determine which variation performs better.
Marketing Land reported that 93% of US companies use split testing on email marketing campaigns. This is because A/B testing:
Pros:
Optimizes user experience
Drives more sales
Improves open and click-through rates
Identifies better segmentation criteria
Cons: One of the key drawbacks of A/B testing is the increased complexity of the process. Designing, implementing, and analyzing tests may take extra time, effort, and resources.
5. Multichannel Communication
The goal of multichannel communication is to reach your audience using different channels. Smartsender's all-in-one automation allows companies to connect with their customers not only via email but also via SMS, Telegram, Messenger, and Web push.
Pros:
Increases reach
Improves engagement
Better conversion rates
Increases brand awareness
Cons:
Higher Costs
Risk of overwhelming customers with too many messages
6. Automated Follow-Ups
These are pre-written emails sent automatically to customers based on specific triggers.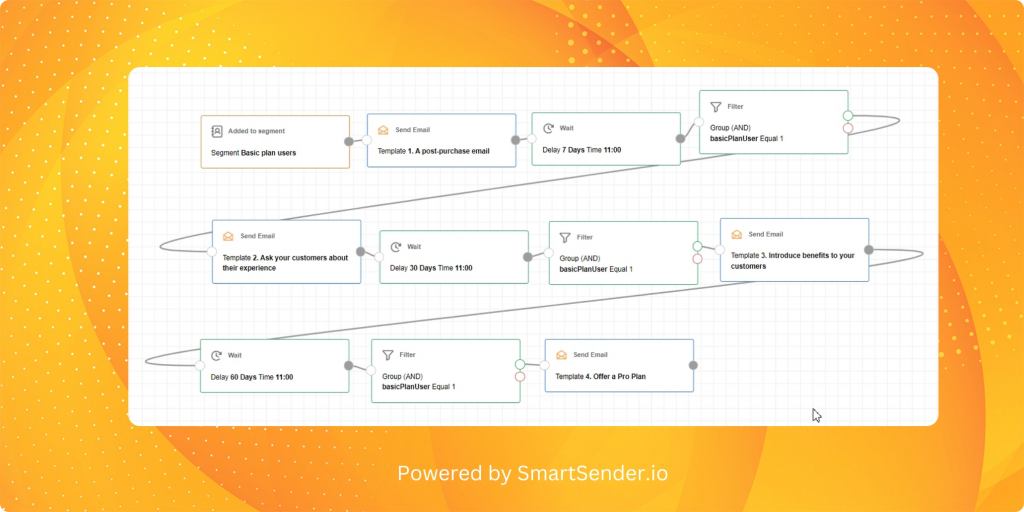 Automated follow-ups aim to nurture the relationship between the brand and the customer by providing relevant and valuable information, promoting products or services, and encouraging engagement. The common types of automated follow-ups include abandoned cart emails, upsell/cross-sell messages, post-purchase messages, welcome emails, etc.
Pros:
Increases ROI
Saves time and effort
Ensures consistent communication
Cons: Pre-written messages lack the human touch, which may come across as robotic. Besides, automated follow-ups lack the flexibility to address particular situations or opportunities that may arise.
7. Pre-made Templates and Workflows
You don't need design or coding skills to build aesthetic newsletters. The world is your oyster when your email automation software has drag-and-drop email builders to create and design email campaigns.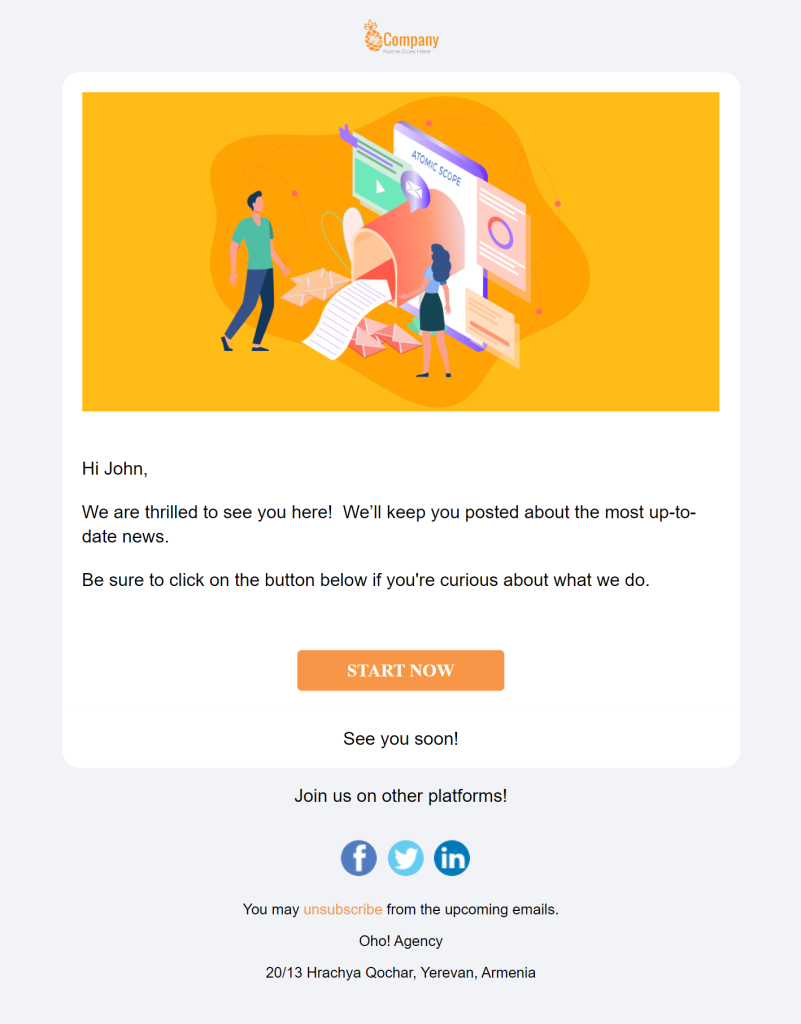 Most drag-and-drop email builders have pre-made workflows with fully customizable templates to match your branding and messaging. Visit our Marketplace to download the workflow and over 1000 other pre-made scenarios with workflows and templates to customize and save much time and effort.
Pros:
Time-saving
Less chance of errors
Increased efficiency
Cons: Pre-made templates may become outdated over time, especially if they are not reviewed regularly.
8. Multi-User Access
It is another vital feature to look for in email automation software. It allows real-time collaboration and better organization among team members. Besides, every teammate can access the platform to track the success of different email campaigns.
Pros:
Improves productivity and efficiency of the team
Reduces miscommunication
Better organization
Cons: errors and mistakes may occur if new teammates are not trained properly.
9. Detailed Analytics and Reports
Getting an email automation platform that offers detailed analytics and reports of your campaigns is quite uncommon. However, if you find one, it can provide valuable insights into the performance and effectiveness of your campaigns.
Smartsender's advanced features not only allow you to get in-depth data about your email campaigns or comparative reports for different campaigns but also the user retention rates and ROI of your marketing efforts.
Pros:
Measures the effectiveness
Identifies areas for improvement
Helps to create better-targeted campaigns
Cons: Overwhelming amount of data might be confusing for users to collect and interpret.
10. Integrations
Finally, one of the key features to consider in powerful automation software is the ability to integrate with popular tools and apps such as CRM systems or social media platforms.
Pros:
Eliminates manual data entry
Improves efficiency of your campaigns
Expands functionality
Cons: Integrations can come up with additional costs such as subscription fees, licensing fees, etc.
To wind up
To remain relevant in today's competitive market, email automation software with advanced automation tools is crucial.
A powerful all-in-one marketing automation software that is Smartsender.io offers various cutting-edge solutions. However, the most essential ones from the top 10 automation tools include the following:
Advanced segmentation
Detailed Analytics and Reports
Multichannel Communication