You can sift through the delivery logs and evaluate message delivery using SmartSender's Sms Log.
These reports will help you track status delivery masseges, see the content of the message, as well as resend it.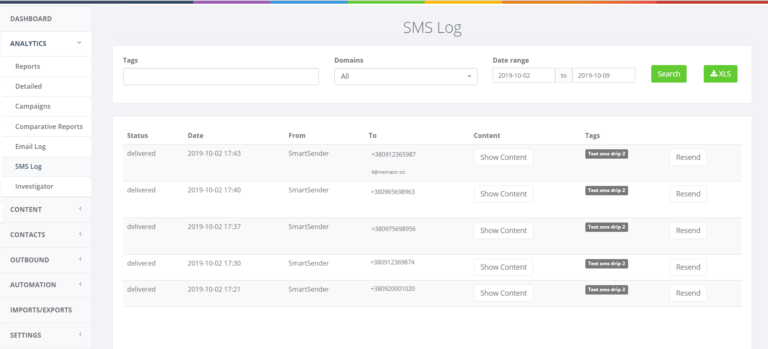 To download Overview Report:
Navigate to "SMS Log" page in "Analytics" section (Menu -> Analytics -> SMS Log)
Filter necessary data by Tags, Domains, Date range
Click "Create Export Task (.csv)" Button
Report filters:
| Filter | Description |
| --- | --- |
| Tags | You tag messages using different features in SmartSender platform (for example: templates, auditory segments, etc.) to get hourly/daily/monthly aggregated reports for all messages with such tag. |
| Domains | Domain name used in "From" email address of your messages. If you have several domains in one account, you can filter report for only one specific domain. |
| Date period | Select specific period of time to generate Report only with data from that dates. |
Overview StatisticsThe type of the event
Data
Description and format requirements.

Status

Here you can see whether the message, sent, was delivered or rejected. 

Date

The date and time, when the message was delivered

From

Sender's from name linked to sending phone number addressee will see in their phones. If not defined – default from name linked to sending phone number will be used

To

The phone number, to which the message was sent to

Content

It is the template of the campaign, sent to the recipient. By clicking "Show Content" button, you will be able to view the template.

Tags

You can add custom tags to your messages to ease stats collections (mark templates,
campaigns, etc). A single tag – must not start with an underscore

Resend

If  you believe, one or more of the  recipients didn't receive important message from you,  you can use the Resend button. Using the resend tool makes the new message appear the same as the original sent message.
The type of the event
| | |
| --- | --- |
| Status | Description |
| delivered | The carrier server accepted & queued for delivery this message. |
| reject | The phone number is in black list |
| failed | A "Failed" status means that your SMS was queued by our systems but failed to deliver to the carrier. This includes cases when SmartSender successfully delivered the SMS to the carrier, the carrier still failed to deliver your message to the destination. |